The following photos and letters are from YES Fund grant recipients. Because you said "YES," we could provide scholarships to students at HUC-JIR, WUPJ, overseas rabbinical colleges, URJ Camps, and more! 
Read their thank you letters below!
Image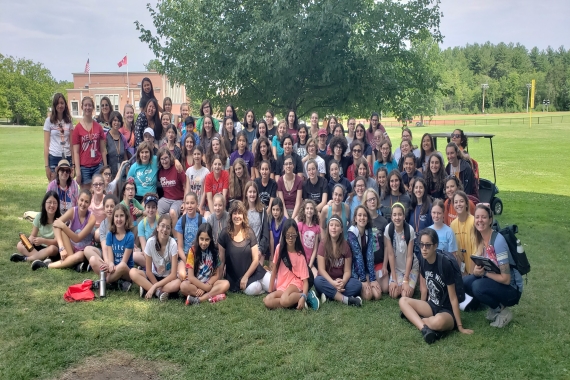 URJ 6-Point Sci Tech Academy Campers
Thank you so much for giving me the opportunity to attend URJ 6 Points Sci-Tech Academy this summer. Without your help, I wouldn't have been able to attend such a wonderful camp. I learned so much about myself, Judaism, science, and technology. I made so many friends whom I can relate with about being Jewish and I hope these friendships will last for my whole life.
I loved the community at Sci-Tech, I felt everyone there understood me and was supportive of me. Learning was fun and interesting and the teachers and counselors were very knowledgeable on so many topics. I was excited every day to make more memories and to learn. I would recommend this camp to all my Jewish friends, even if they don't already love science, because Sci-Tech is such an amazing place.
Sincerely,
Zoe C.
Image
Anat Hoffman - Women of the Wall
Dear Sisters,
This to say thank you to all of you—staff, leadership, and all members of WRJ for your recent generous support of WOW. You gave us more than money. You gave us a true jolt of solid sisterhood. You've been at our side for many long years. Your partnership with us is steadfast and ongoing. 
WOW's goals seem simple and trivial—the right of women to wear a tallit, to pray out loud, to put on phylacteries, and to read Torah. The simplicity of our goals is misleading. We are leading a historical revolution in Jewish pluralism and how Judaism treats women. The importance of our struggle is reflected by the enormous opposition that the religious establishment has mounted against us. They too realize that we can be the engine that could…the engine that moves a long train of other challenges against the Orthodox monopoly on all religious matters in Israel.
Toda raba, Friends.
Image
Rabbi Isak Aasvestad
I want to express my deepest gratitude for the generous scholarship I have been granted by WRJ in support of my rabbinical studies at Abraham Geiger College. Here are a few highlights from the 2016 summer semester.
It was a great pleasure to meet Blair Marks, Rabbi Marla Feldman, Susan Bass, Lynn Magid Lazar, and the other representatives of WRJ at the Biennial Convention of EUPJ in London. As the Reform Movement is still relatively small in Germany, meeting with fellow progressive Jews from other countries is important to me. 
I also started an internship in the Regional Council of the Jewish Congregations of Schleswig-Holstein. Five communities are organized in the Regional Council, and so far, I have visited Kiel, Penneberg, and Bad Segeberg, leading Shabbat and Chag services, giving Shiurim, and providing pastoral care. I have also been actively involved in interfaith work, helping organize a series of events in Berlin in which representatives from different religious communities visit each other in our respective places of worship.
By awarding me the scholarship, WRJ allows me to focus more on the most important aspects of my studies, namely my rabbinical internship, in addition to the learning itself. Without the scholarship, it would be difficult for me to pursue my goal of becoming a rabbi in a Progressive Jewish community in Europe. I am therefore grateful.
Image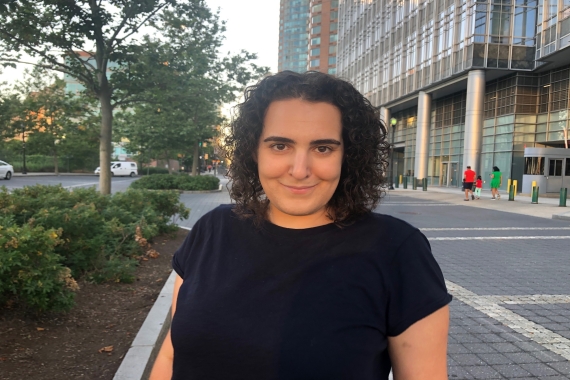 Ora Jacobsen - R'25
I am grateful and honored to have received WRJ's YES Fund scholarship to support my education at HUC-JIR. Thank you for your generosity in helping me on my journey to the rabbinate and Jewish leadership.  
When I came to Judaism in my adulthood, I discovered something I didn't even know I needed; spirituality, groundedness, and an inspiring worldview. As I studied to become Jewish, I noticed how my newfound engagement with Judaism influenced people around me. I began getting the "I always wanted to ask my rabbi this, but…" questions. My expression of my Judaism and my approachability encouraged those around me to engage with their Judaism. Years later, my love of learning hasn't stopped. I've pursued the rabbinate to help others engage in their Judaism because our tradition holds so much meaning and beauty if we choose to look.  
It is such a joy to be on the New York campus this Fall. I am beyond thankful for your kindness and support of my education. As a second-career student, the financial transition back to being a student is financially challenging. Your gift makes it possible for me to make this career change, and I am grateful.  
Image
Harriet Dunkerley
Thank you for the most generous reward I received from Women of Reform Judaism after being named "The Student who Showed the Greatest Progress" during this past academic year in HUC-JIR's Debbie Friedman School of Sacred Music. 
Returning to New York after my first year in Jerusalem was quite an adjustment, and I owe a debt of gratitude to WRJ for acknowledging my hard work. I will treasure this recognition always as a motivator to continue striving to achieve my goal of one day serving as a full-time pulpit cantor for a congregation. I feel incredibly blessed to have already learned so much and come so far in my growth and development, vocally, academically, and personally.
I look forward to continuing my studies over and, my heart is filled with gratitude for your most generous award.
Image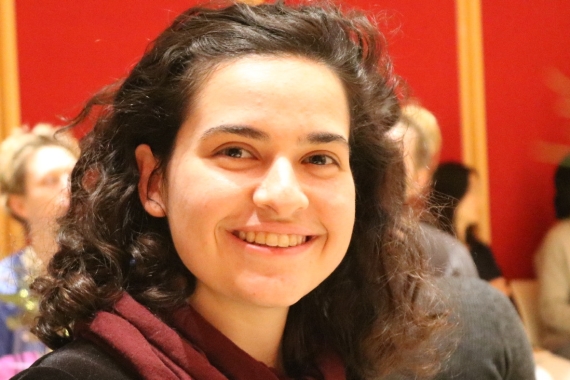 Eden Glaser - R'25
I am an honored recipient of a WRJ YES Fund scholarship at HUC-JIR. I am deeply appreciative that you are helping to provide me with the opportunity to become a rabbi. Your generosity will not only allow me to complete my education but begin my rabbinate with less financial strain so that I may serve any Jewish community.
I was born and raised in the San Fernando Valley and was active at Temple Ahavat Shalom, and Camp Alonim during my formative years. These two institutions, combined with the culture within my family, instilled within me a deep love for Judaism. In high school, I was the poster child for the youth section of Jewish Queer International and found myself within that organization. By college, I knew I wanted to be a rabbi.  
In the first weeks of the COVID-19 pandemic, my mother passed away. The last several months have been trying, to say the least. Luckily, at HUC, I was able to connect with my peers on a deep and lasting level. I am beyond grateful for the new community of friends I have joined. 
Now, I am the student rabbi of Congregation Beth Jacob in El Centro, California. Though I have not had an in-person visit, I am beginning to bond with congregants as we pray, learn, and sing together. I am also teaching sixth grade Judaica and Hebrew at Temple Judea in Tarzana, California. 
Again, your gift of generosity has enabled me to find a new home in HUC. Not only am I thriving academically, I am a member of a sacred community, which I desperately needed during the most difficult year of my life. Thank you for providing me with this blessing.
Image
Rabbi Brian Doyle-Du Breuil
I was scheduled with other students of Abraham Geiger to spend our year in Israel studying at the Conservative Yeshiva in Jerusalem. I was looking forward to this immersion in traditional texts and the opportunity to advance my modern Hebrew skills. But, COVID-19 intervened. Months of uncertainty followed as Abraham Geiger College negotiated the situation, searching for a positive way forward. With a great deal of goodwill and flexibility, an ideal solution was found. In collaboration with Conservative Yeshiva, the College created a tailored, online program, a virtual 'year in Israel' concentrated into one semester.
The program was an exhausting but highly rewarding learning experience with many hours each week on zoom. While a close reading of multiple biblical and rabbinical texts certainly contributed to my knowledge of classical/rabbinic Hebrew, I was a little concerned that I would miss the opportunity to hone my modern Hebrew skills. But thanks to the generosity of Women of Reform Judaism and a YES Fund grant, I was able to enroll in an extended Hebrew Ulpan at HUC. The Ulpan increased my confidence in Ivrit and is opening doors. 
In the meantime, I consolidated my rabbinical leadership role at an anglophone community in Brussels, where I served as a rabbinical intern. I was delighted to accept the community's decision to appoint me as their full-time rabbi at the formal conclusion of my studies. The generosity of WRJ has thus been extended to a small Jewish community with limited resources.
I am proud and grateful to be a YES Fund scholarship recipient. I look forward to meeting some of the Women of Reform Judaism when the restrictions allow, making my gratitude concrete with a warm hug.
Chloe Zelkha - R'25
I am writing with deep gratitude for your generous contribution to my rabbinic education. This scholarship has enabled me to study at HUC-JIR and has made it possible for me to immerse myself fully in rabbinic formation. 
I grew up in the Bay Area and attended Sunday school at a small synagogue, but no one in my family was particularly moved by Jewish practice. I decided to pursue becoming a bat mitzvah, and the process of doing so was a real coming of age. The idea of entering the rabbinate still felt wildly out of the box, but the seeds had been planted. As a student at Carleton College, I majored in Religion and found my focus in contemporary Jewish theology. After graduating, I worked as a community organizer with youth in Boston. I participated in a fellowship with the Jewish Organizing Institution and Network for Justice, where I learned about the connections between Judaism and justice work.
I returned to the Bay Area in 2015 to work as the Fellowship Director at Urban Adamah, a Jewish farm, and environmental education center, where I directed a residential semester program for Jewish young adults. After losing my dad in 2017, I turned to grief work and served as a chaplain at UCSF Mission Bay Hospital, where I offered spiritual care to people who were ill and dying and their families. This was the work that inspired me last year to co-found an organization that serves young adults who have lost family members to COVID-19. Eventually, it became clear to me that teaching, organizing, pastoral care, and Jewish practice--were pointing me towards the rabbinate. I wanted to offer transformative experiences that helped people connect to themselves, others, and that which connects us all. And I knew that Jewish tradition was a deep well of wisdom to draw from in pursuit of that goal. 
Immersing myself in serious Jewish study at HUC has been a gift. This year, I am blessed to serve as the Student Rabbi at Congregation Anshe Emeth in Piqua, OH; as the Rabbinic Intern at Centre College in Danville, KY; and as an educator and song leader at Wise Temple in Cincinnati. These experiences are deeply enriching my education as well. 
Once again, I want to extend my sincerest thanks for your generosity. Thank you so much.
Sierra Fox - DFSSM '25
I can barely begin to express how grateful and honored I feel to be a scholarship recipient as a student here at HUC-JIR Debbie Friedman School of Sacred Music. Your generosity and kindness have allowed me to engage in this most meaningful and rewarding path. Every day, I recognize how fortunate I am to pursue my dream of being a Cantor at this great institution.
As someone who discovered this calling to the Cantorate later in life, I spent the first decade or so of my adult life working as a professional singer in the Philadelphia area. I found music-making to be a powerful way to connect and communicate with people, but something was missing for me in my work as a singer. While I was grateful for my success and ability to support myself, I felt that the opportunities I had were not often the kind that allowed me to help people in direct and meaningful ways.
I started to wonder how I could add that to my work and began my studies toward a degree in social work. Around that time, I began filling in for my Cantor at Reform Congregation Keneseth Israel in Elkins Park. The experience left me feeling more fulfilled than I could have possibly imagined. With the help of my Cantor, Amy Levy, I decided to apply for HUC-JIR, and despite the complications of the pandemic, the experience has been more than I ever dreamed. My classes are a wellspring of important learning and discussion, in which we engage so meaningfully with texts, music, and our own experiences. My student pulpit at Temple Emanuel of South Hills, has provided me with unbelievable opportunities: in just the several months I've been there, I have led High Holiday services, sung for a funeral, given a High Holiday sermon, presented at a local senior center, and had countless new and eye-opening experiences. In my experiences at HUC-JIR, I am constantly amazed by the wisdom and compassion of my classmates, the wealth of learning available to us, and the commitment that we have to each other and the greater community.
Without the generosity of donors like you, I know that many of us here would not have this opportunity to learn and grow together, to hopefully become the best future Jewish leaders we can be. Thank you so much for your support and kindness, and may we be able to pay this forward in countless ways in the years to come!