URJ 6-Point Sci Tech Academy Campers
Dear WRJ,
Thank you so much for giving me the opportunity to attend URJ 6 Points Sci-Tech Academy this summer. Without your help, I wouldn't have had the chance to have this experience. I had a spectacular time at camp and I learned so much about myself, Judaism, science, and technology. I made so many friends whom I can relate with about being Jewish and I hope these friendships will last for my whole life.
I loved the community at Sci-Tech, I felt everyone there understood me and was supportive of me. 6 Points Sci-Tech was unlike any other camp I had ever been to. Learning was fun and interesting and the teachers and counselors were very knowledgeable on so many topics. I was excited every day to make more memories and to learn. I would recommend this camp to all my Jewish friends, even if they don't already love science, because Sci-Tech is such an amazing place.
I sincerely hope I have the chance to attend again next summer because I feel I have found people with whom I belong and can relate to at camp this summer. Thank you again for everything you have done for me, I wouldn't have been able to attend such a wonderful camp if it weren't for you.
Sincerely,
Zoe C.
Image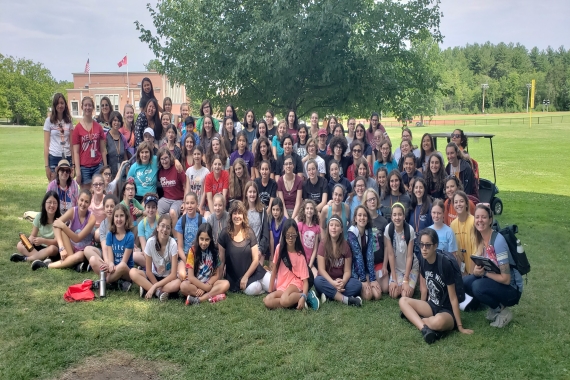 Anat Hoffman - Women of the Wall
Dear Sisters,
This to say thank you to all of you—staff, leadership and all members of WRJ for your recent generous support of WOW. You gave us more than money. You gave us a true jolt of solid sisterhood. You've been at our side for many long years. Your partnership with us is steadfast and ongoing. 
WOW's goals seem simple and trivial—the right of women to wear a tallit, to pray out loud, to put on phylacteries and to read Torah. The simplicity of our goals is misleading. We are leading a historical revolution in Jewish pluralism and how Judaism treats women. The importance of our struggle is reflected by the enormous opposition that the religious establishment has mounted against us. They too, realize that we can be the engine that could…the engine that moves a long train of other challenges against the Orthodox monopoly on all religious matters in Israel.
Toda raba, Friends.
Yours, 
Anat Hoffman
Image
Rabbinic Students
Dear Women of Reform Judaism,
First and foremost, I would like to express my deepest gratitude for the generous scholarship I have been granted by the Women of Reform Judaism, in support of my rabbinical studies at the Abraham Geiger College. I would like to share with you a few highlights from the 2016 summer semester.
It was a great pleasure to meet Blair Marks, Rabbi Marla Feldman, Susan Bass, Lynn Magid Lazar, and the other representatives of the WRJ at the Biennial Convention of the European Union for Progressive Judaism in London in April. As the Reform Movement is still relatively small in Germany, meeting with fellow progressive Jews from the United States, Great Britain, and other countries is very important to me. Starting off the semester in this way provided inspiration and energy for the entire semester (in Germany, the summer semester starts in April and ends in late July).
This semester, I started an internship in the Regional Council of the Jewish Congregations of Schleswig-Holstein. Schleswig-Holstein is the northernmost state of Germany, bordering my native Scandinavia. Five communities are organized in the Regional Council, and so far I have been visiting the three larger of the communities, namely those in Kiel, Penneberg, and Bad Segeberg, leading Shabbat and Chag services, giving Shiurim, and being available for pastoral care. This year, I will lead High Holiday services in Kiel.
I have been actively involved in interfaith work, helping to organize a series of events in Berlin in which representatives of the Christian, Jewish, and Muslim religious communities visit each other in our respective places of worship.
In the last week of the semester, I participated in the annual conference of the Union of Progressive Jews in Germany, where I, together with my fellow students at the Abraham Geiger College, led the Shabbat Shacharit service.
By awarding me the scholarship, the WRJ allows me to focus more on the most important aspects of my studies, namely my rabbinical internship in addition to the learning itself. Without the scholarship, it would be very difficult for me to pursue my goal of becoming a rabbi in a Progressive Jewish community in Europe. I am therefore very grateful for the scholarship Women of Reform Judaism gives me.
Thank you again for your generosity and support!
Sincerely,
Rabbi Isak Aasvestad
Sweden
Image