For the last 10 years or so I've sent out an Omer writing to a closed group of friends, family, and colleagues. Some of them pass them on to others, some comment, and I assume some delete. I pick a topic that is timely, appropriate, and naturally, one I'm interested in, which makes the writing easier,  fun, and I hope meaningful. Being in show business, of course, the title is vital to capture their attention and the rules are simple. This is not about starting a conversation or correcting my spelling (the internet does that) or anything except making you and me aware that our spiritual life and the rules of yesteryear can cohabitate in these days. I've covered a variety of topics, including, but not limited to, MY GRANDMA HAS A TALE, READING BETWEEN THE SIGNS (street signs), TORAH TEXT (text abbreviations to teach Torah), IS THERE AN APP FOR THAT, LOST AND FOUND, and just last Elul, NO PLACE LIKE HOME FOR THE HOLIDAYS, to name a few as we travel down the road. I should say that they are all grounded in Judaism and contemporary conversations as well. I do some research, so they are correct although with my particular group of readers that isn't a problem as they correct me. I like to picture the readers as I write (albeit in my head) much as I would an audience.  
Sometimes (but not always) especially at the Counting of the Omer, I think maybe I won't do it. After all, it is 49 days of writing, and what if I run out of things to write or a myriad of other feeble excuses? So far, though, I've only skipped once and truth be told, I felt empty, so I never did that again-- not to mention that some of my readers go on my case. In April of 2020 (remember that?) I felt an urging to write more, so I started early and the subject was TO A TEE, designing tee shirts with slogans on them and stories to go along. The Counting of the Omer, as you know, is from Leviticus 23:10 and we are mandated to begin the count on the second day of Pesach and bring an offering to the Temple (then, not now) for 49 days which will culminate in the holiday of Shavuot. There is much ritual and a blessing to be said each day with the number. Google explains it very well. Clearly, some of those mandates are no longer with us and it has always been fascinating to me to see how we make it our own. I have one friend who brought a box of cereal to a food pantry every day during the count as her grain offering. As for me, I encourage some practice, not food-related, but knowledge that may or may not be emphasized with a story, personal or historical, and usually with humor and always with a Jewish tam (tone).
This is what I can count on as I write the Omer. I have a connection to some friends that doesn't happen during the year, a regulated activity that makes me think about my Judaism and an opportunity to learn not just about Judaism, but about finding opportunities of connection in my secular life,  to broaden the spiritual and rich threads. One other thing is that I don't write on Shabbat, but I write a longer one on Thursday night that relates to the topic and to the Torah portion forcing me to study Torah… that's not bad!
So, here's my last thought as I recommend you bring the Counting of the Omer into your lives. I started out writing with just one word to a friend. A thoughtful word. Then it grew, and grew, and then came Omer. Like my friend who brought grain to a food collection box, one could copy that or make a list of a daily activity. One could include family members, kids especially, in some activity, perhaps writing a daily message or emoji a Grand-Omer or Grand-Oper, and then on day 50 when we celebrate the gift of Torah we have been 'giving' every day and the celebration is magnificent.
Marilyn Price is a nationally known puppeteer and storyteller who has been using puppets "to sell Judaism through stories to everybody, even those who don't yet care" for over twenty years. Marilyn has taught and performed at CAJE, the national convention of Women of Reform Judaism, NFTY and BBYO leadership retreats, Melton Centers' educators' conferences, HUC-JIR in Cincinnati and California, and the Reconstructionist Rabbinical College in Philadelphia to name a few. Part of her "mission" has been to teach the art of storytelling to teachers throughout the United States and she is the author of a bi-monthly feature on puppetry for Shofar Magazine. 
Related Posts
Image
"6336 Hebrew letters…1686 Hebrew words…126 verses…208 lines…and always on the 3rd Shabbat after Simchat Torah. You can stop humming.
Image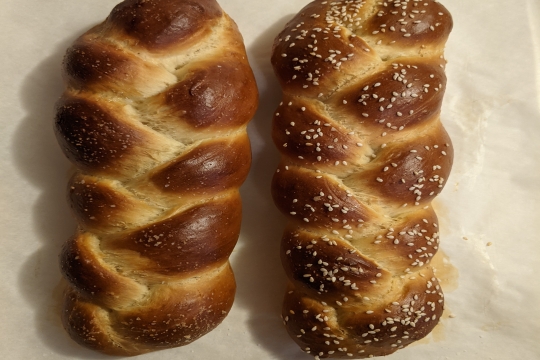 One of the advantages of remote work has been the ability for me to make challah each week for Shabbat.
Image
The fight for freedom of expression in all its forms is not easily attainable, but one we know is crucial to the progress of the State of Israel.