Image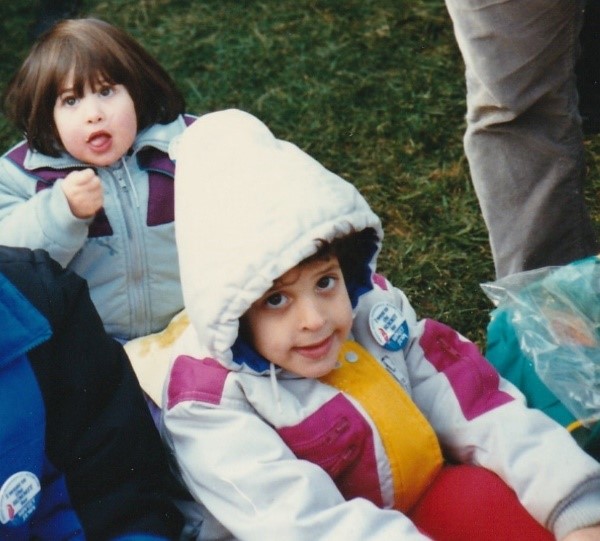 From the time I was a little girl, I knew the importance of sisterhood groups. My mother was always an active member of her sisterhood until she was well into her 80's. When we moved to Maryland from New York in 1984, we joined Temple Solel in Bowie, and I immediately joined Women of Temple Solel. I am also the proud mother of two women who learned the importance of Jewish values as they grew up and continue to pass those values on to their five daughters.
My older daughter, Rachel, and I have served both our sisterhood and congregation in some of the same positions. We have both have been president, but she was probably the only one who did it before she was 30 and pregnant with her first child. She is currently the Oneg Shabbat chair, a position that I also held. We also both chaired the congregation's membership committee.
In 2012, Rachel was the webmaster for the Mid-Atlantic District. I am certain that her second child, Danielle, was probably one of the youngest to ever attend a district convention at the age of two months. After retiring from teaching, I had the time to become more active in the district. At that time, I was known as Rachel Nathan's mother. As I moved up in the district and on to the WRJ board, I became Carol Newman, but the title of Rachel Nathan's mother is still one that I hold dear.
NFTY also plays a large part in the experiences I shared with my girls as they were growing up. Rachel was our congregation's youth group president. My daughter, Sara, was also active and served as the regional D'Var Torah chair. I believe these experiences influenced Sara's decision to become a rabbi. She was ordained on Mother's Day, 2011, and currently serves as the Executive Director of Hillel of Buffalo. I was a youth group advisor who understood that I would not chaperone kallahs until my kids were too old to attend – because who wants to take their mother with them for a NFTY weekend?
Israel has always been important to our family. My husband, David, was an ARZA board member. My daughters went on NFTY trips in high school, and Sara has attended and led Birthright trips. Our congregational trip in 2006 coincided with Sara's first year as an HUC student allowing us to spend quality time together as she began her journey.
Family events, including baby namings, B'nai mitzvahs, and weddings, have always played a big part in our lives. There is a beautiful tradition called a mezinke tanz that honors parents who have married off their last child. The mother wears a crown of flowers, and the guests dance around the proud parents. We had the opportunity to participate in that tradition at Sara's wedding.
I strongly believe that WRJ gives women the skills to nurture their families and each other.
Carol Newman is a member and past president of the Women of Temple Solel in Bowie, Maryland. She is a past WRJ Board member and has recently joined the Chai Society. She currently serves as the Marketing and Communications VP for the Mid-Atlantic District and chairs the Membership committee of her sisterhood.
Rachel Nathan, the mother of Maya and Danielle, is a past president of the Women of Temple Solel and currently serves as Oneg Shabbat chair. She is the Accounts Payable/Receivable Specialist at Education Week magazine.
Rabbi Sara Rich, the mother of Miriam, Sivan, and Naomi, is the Executive Director of Hillel of Buffalo.
---
As we approach Mother's Day, and perhaps reconnect in person for the first time in a year, we are reminded of the importance of generations coming together. And while we recognize it can be a day of reflection, memories, and joy, we know it can bring complex feelings, too. This spring, we wanted to take the opportunity to celebrate ALL of the women who make WRJ special. We asked some of our WRJ "sisters" to share how being a part of this community has shaped their formative years, continues to be an integral part of their lives, and how WRJ inspires them to think about the future.
We hope these stories in our campaign, L'dor V'dor: From Generation to Generation, demonstrate your impact. Your support enables WRJ to reach thousands of women, youth, and people through our signature leadership education and Jewish programming. Join us in honoring these women and their families as they pass down sacred Jewish values. Please donate to this ever-growing community with a gift today.
Related Posts
Image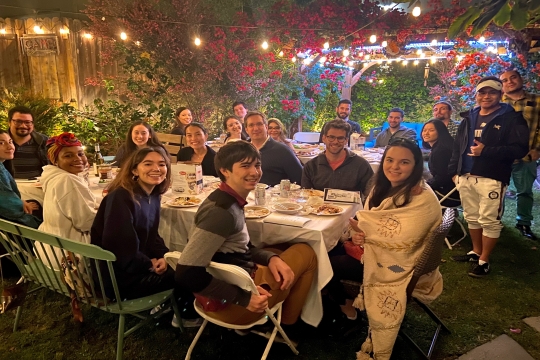 There has never been an Asian American Jewish in-person Passover Seder. Until this year.
Image
FACT: Life begins at birth. FACT: Until birth, the fetus is part of the mother. FACT: The life and well-being of the mother will always take precedence over the fetus until the point at which the fetus's head fully emerges from the womb, and it becomes a living baby. These are the facts as I believe them to be, based on my faith, tradition, and understanding of Jewish law. While I understand that some people may hold different religious views, they are not binding on me. Until now.
Image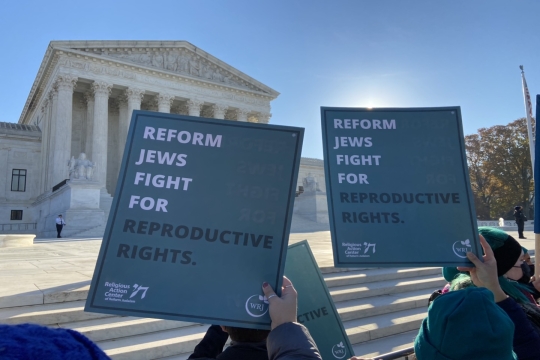 There is no sugar coating what is happening now in the United States regarding abortion rights and access, as well as in other areas of bodily integrity and rights.