Image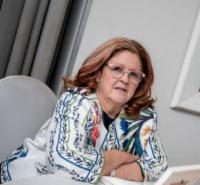 I was born into a family of charity workers and, from a young age, was encouraged to help out wherever I could. When asked what I wanted to be when I grew up, I always said, "A teacher!"
As a teenager, I was a Habonim Madrichah and eventually served on the local Habonim Executive. As an adult, I became a teacher and taught in Primary Schools for 23 years. Although teaching is my passion, I eventually grew fed up with the Government Education system and decided enough was enough. We were changing to a new system, and no one in the Education Department seemed to know what they wanted; we were having to re-do things every couple of months.
Fortunately, through my Progressive Jewish community, I found a way to continue teaching. In 2002, I started teaching part-time at the Hebrew School at Bet Menorah, my  Progressive synagogue in Pretoria. By 2004, I took over the running of the school. Over the years, I also served as the Religion School Principal at two other progressive synagogues in Johannesburg. I continue to run the Cheder and conversion classes at Bet Menorah. 
Although I've been a member of Bet Menorah all my life, and my parents were on the Council for many years, I did not get involved in all the activities Bet Menorah had to offer until 2001. And then, suddenly, I jumped into the deep end! The Convenor of the Membership and Social Activities Committee organized a function and asked me to come on board. After seeing my enthusiasm and results, he nominated me to be Convenor, a position I still hold today. I also run all the projects for Bet Menorah's Tzedakah committee.
I love organizing functions, as I find the success of any event gratifying. But, I know success can only come from hard work and the kind of help of people with whom you have built personal relationships. Luckily, I'm a people person and enjoy welcoming new members into our community, reaching out to members who haven't been active, and helping them get more involved in Shul.
We have not had a Rabbi in our community since 2010, so I am the main Lay Reader, which includes Shabbat, Festival, and B'nei Mitzvot services. Being a Service Leader has brought out the spirituality in me, given me confidence, and brought me closer to all of our congregants. Most of all, I love conducting a B'nei Mitzvah service. It brings me so much joy to guide young people through this process.
We have had a number of diplomatic families join us over the years. As well as teaching their children and conducting their B'nei Mitzvah services, I have become personal friends with them. I have a special memory of one family from the American Embassy. I taught their son in 2010, and after they left, the family sent me a ticket to attend his Bar Mitzvah in San Francisco. With another family, I taught and conducted B'nei Mitzvah services for their two older children and then started teaching their youngest son. They returned to the United States and found a new teacher, but their son was not happy at all. He told his parents that unless I could teach him, he was not having a Bar Mitzvah. Six months later, COVID- 19 hit us all. The dad reached out to me, and I began teaching the son over Zoom and ultimately conducted his Bar Mitzvah service via Zoom. It was a true highlight for me!
I was never an active member of the sisterhood, but when Membership and Social Activities started working with the sisterhood, I was told I had no choice but to join. This I did in 2007, becoming vice-chair in 2009. In 2010, I was elected as National Vice President of SAUTS (South African Union of Temple Sisterhoods) at their biennial conference. I accepted this position, not really because I wanted to, but because there was no one else to do it. Looking back, I'm glad I did. Little did I know what an adventure lay ahead!     
During my two years as Vice President of SAUTS, I concentrated on the Gauteng region and decided we needed to work together and really get to know people from all the sisterhoods. I attended numerous sisterhood meetings, getting to know everyone, understanding their projects, and helping out wherever I could. I realized we needed to get together not just every two years at our Conference but on a more regular basis. Each sisterhood was asked to arrange a Sunday afternoon event and invite members of the other Gauteng sisterhoods. During these different and most successful afternoons, we learned diverse and creative skills like flower arranging, jewelry making, how to apply make-up correctly, and how to make macaroons. Each sisterhood carried the cost of the "ingredients" for each particular program, and attendees were asked to contribute an item to the hosting sisterhood's project. It was a wonderful way to build community among our sisterhoods. 
In June 2012, SAUTS changed its name to WPJ-SA (Women for Progressive Judaism – South Africa), and I was elected National President. Becoming National President was quite daunting as I did not really know exactly what lay ahead, but I was up for the challenge. As National President, I made a point of traveling around the country and meeting sisterhood ladies from all the different shuls, making many new friends, and learning so much from everyone. 
In June 2014, at the Conference in Cape Town, I was re-elected as National President of WPJ-SA and re-elected once again in July 2016. I now remain active as Vice President and Immediate Past President. Sisterhood has become part of who I am as a Progressive Jewish woman. What a wonderful journey it has taken me on!
Giddy Lief is a WRJ Board Member living in Pretoria, South Africa.
This story is part of WRJ's "Sharing our Stories" series. Reform/Progressive Jewish women in North America and worldwide share personal stories of sisterhood, spirituality, and social good to create connections and a better understanding of each other, our shared values, goals, and challenges. Want to share your story? Communities around the world would love to hear from you. Please contact WRJ Secretary Karen Goldberg for more information. 
Related Posts
Image
"6336 Hebrew letters…1686 Hebrew words…126 verses…208 lines…and always on the 3rd Shabbat after Simchat Torah. You can stop humming.
Image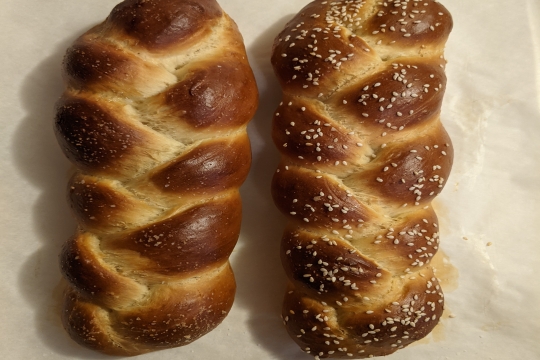 One of the advantages of remote work has been the ability for me to make challah each week for Shabbat.
Image
The fight for freedom of expression in all its forms is not easily attainable, but one we know is crucial to the progress of the State of Israel.