How did you wind up on WRJ's Board?
While I have served on our synagogue board for the last eight years, it was after the 2016 presidential election that I found myself looking to my faith community for guidance, explanation, and inspiration. During this time, I discovered that I find meaning and spirituality in praying with my feet, and helped to found Come As You Are ("CAYA"), a social action-based group of women, at our congregation.
It was also around this time I started following WRJ on social media and found inspiration to use my spirituality to channel my angst into advocacy and action. As the Supreme Court shift began to occur in 2017, that angst began to increase around how the Court's changes, and expected changes, would impact women in the United States; it seemed as if every time I was upset about an appointment or a published decision, WRJ was three steps ahead of me, releasing a statement and action items.
Simultaneously, I was working in the United States Senate and was prohibited by ethics rules from becoming involved in advocacy work within the realm of WRJ, so I followed WRJ on social media and used it for personal inspiration, without becoming officially involved. Upon my departure from the Senate last year, WRJ Board applications opened, and it was my Besheret moment! While I felt under-qualified compared to the incredible women on the WRJ Board, I decided to apply, with the goal of supporting and giving back to an organization that has advocated on the "right side of history" for decades. Now, via my Board service, I can fully participate in WRJ's important work.
 
What one accomplishment from your time on WRJ's Board are you most proud of and why?
Having just joined the Board a few months ago, I have not had time to accumulate accomplishments yet. However, one accomplishment I hope to be proud of at the end of my term is our increased engagement of the next generation of Jewish women leaders.
Organized religion is at a pivotal moment, especially within the Jewish community, and "walking the walk" in embracing progress is crucial to the growth and continued success of the Reform Movement. Women are the heartbeat of our communities – with our families, our children, our places of work – and by engaging women of all ages, backgrounds, and availability, we engage our communities.
As a Board member, I hope to be able to advance meaningful change regarding inclusivity and how we structure our events, to ensure we are reaching the greatest number of people with the highest level of accessibility. I am excited and hopeful that with such an innovative group of leaders in this organization, we will be able to reach more people than ever before.
What are three characteristics that you believe are important for a leader to possess, and why?
An impactful leader must possess self-awareness, courage, and respect. 
In leadership, self-awareness allows a leader to know themselves and the team around them. By having an awareness of your team's strengths and weaknesses, a leader can be more collaborative and allow each team member to utilize their own strengths.
Courage allows a leader to take risks with confidence. Shifting the culture or mindset of an organization or company is challenging, and leaders with courage can approach these risks or challenges with resilience, self-discipline, openness, and authenticity. Progress is challenging, and courage is one of the most valuable traits a leader can have when working toward a new goal.
Finally, respect is integral to the success of an organization or business and is required to develop a culture of trust and understanding. One saying I live by is, "Respectful leaders are respected leaders." A respectful leader is more likely to have an impactful and positive effect on the organization or business, and their team.
What are you doing to ensure you continue to grow and develop as a leader, in WRJ and/or elsewhere?
While serving on the WRJ Board is still new to me, I am hoping to get involved in the areas of advocacy and engagement. I also plan to attend the URJ's 150 event in Washington, D.C. later this year, and look forward to engaging with the WRJ cohort there.
 
Bonus question: Are there any movies/shows or books about leadership that have really resonated with you? What was your biggest take-away?
"Women Don't Owe You Pretty" by Florence Given! While there are so many incredible options, this book stands out to me because I find a next-generation author/voice relatable and inspiring. My favorite takeaway is, "…you are abundant. Never apologize for this."
Related Posts
Image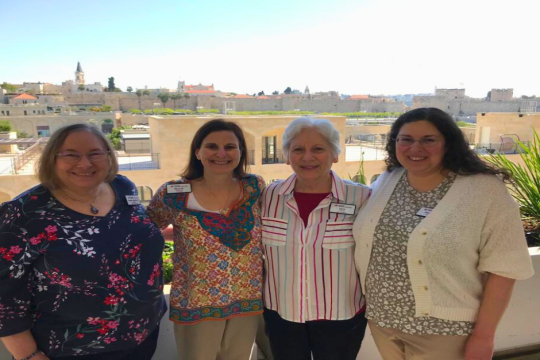 How did you wind up on WRJ's Board? My journey to WRJ's Board is different than many, and I hope it can encourage others that there is more than one path to WRJ leadership. I participated in my sisterhood's activities and WRJ District activities, but I had not served in leadership on either level.
Image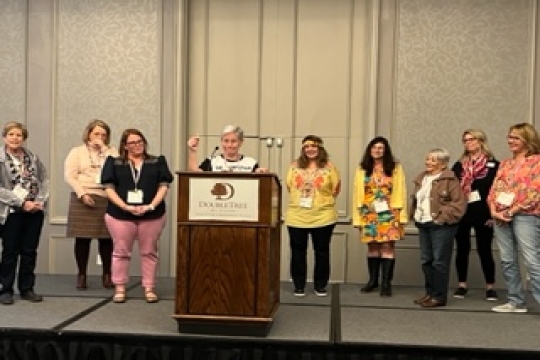 Since you are reading this, you likely know that Women of Reform Judaism (WRJ) cultivates sisterhood by empowering Reform Jewish women to find strength, joy, and connection in their communities. You likely know WRJ inspires spiritual growth by enriching contemporary life with Jewish rituals...
Image
As May is Jewish-American Heritage Month, watch what Phyllis has to say about her Jewish-American special customs and traditions. We also interviewed Phyllis about her leadership experience. Find out how she describes her leadership, who she admires, and her advice for future leaders.