Shalom Sisters, This is my tale of four WRJ daughters: The wise one, the wicked one, the simple one, and the young one. The wise daughter wants to know about WRJ and what it does, because she wants to be a member. Unto her I say, "WRJ started in 1913 when 156 women from fifty-two Reform congregations met to form an organization to meet the needs of Reform women's groups in North America. Since then, the organization has grown to 65,000 women representing 500 groups all over the world. Together, we work to ensure the future of Reform Judaism." The wicked daughter thinks WRJ has no relevance to her. Unto her I say, "The rabbi and cantor you rely on received an excellent education because of WRJ support. The social justice issues you should care about are given a loud and clear voice because of WRJ involvement. The Reform Jewish summer camp you loved benefited from funds WRJ provided for camp projects and scholarships. I could go on and tell you how much the WRJ women of your temple do for your congregation, but suffice it to say that WRJ has been a relevant factor in your life as a Reform Jew whether you know it or not." The simple daughter does not know how to ask about WRJ. Unto her I say, "Please come and join us. We want you to be part of this important group that supports our congregation and Reform Judaism everywhere. We want you to enjoy friendships not only within our local group, but also those you can make on a district and worldwide level. We want you to experience the pride of being part of an organization that keeps Reform Judaism thriving. I will be happy to pick you up, and we can go together!" The last daughter is the young one. Unto her I say, "The future of WRJ is in your hands.  We give you a solid foundation, the result of ninety-nine years of commitment to training future WRJ and congregation leaders, to educating future clergy, to advocating for social justice, to supporting our youth, and to raising funds to run our programs.  We hope you will continue this work and build upon it as you guide WRJ through the 21st century. Our motto is, 'Stronger Together.' We hope you will remember it as you make our organization yours. It will serve you well." Now my tale is told. That reminds me! Passover is only two weeks away. I hope I'm the first to wish you a wonderful Seder, and a meaningful holiday with those you love. May the light of the Shabbat candles brighten all of our lives. Shabat shalom, Marlen Frost is a WRJ Board member and a member of the sisterhood of Temple Israel in Omaha, Nebraska.
Related Posts
Image
"6336 Hebrew letters…1686 Hebrew words…126 verses…208 lines…and always on the 3rd Shabbat after Simchat Torah. You can stop humming.
Image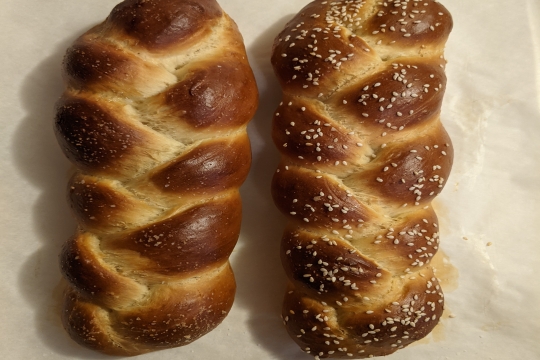 One of the advantages of remote work has been the ability for me to make challah each week for Shabbat.
Image
The fight for freedom of expression in all its forms is not easily attainable, but one we know is crucial to the progress of the State of Israel.