Image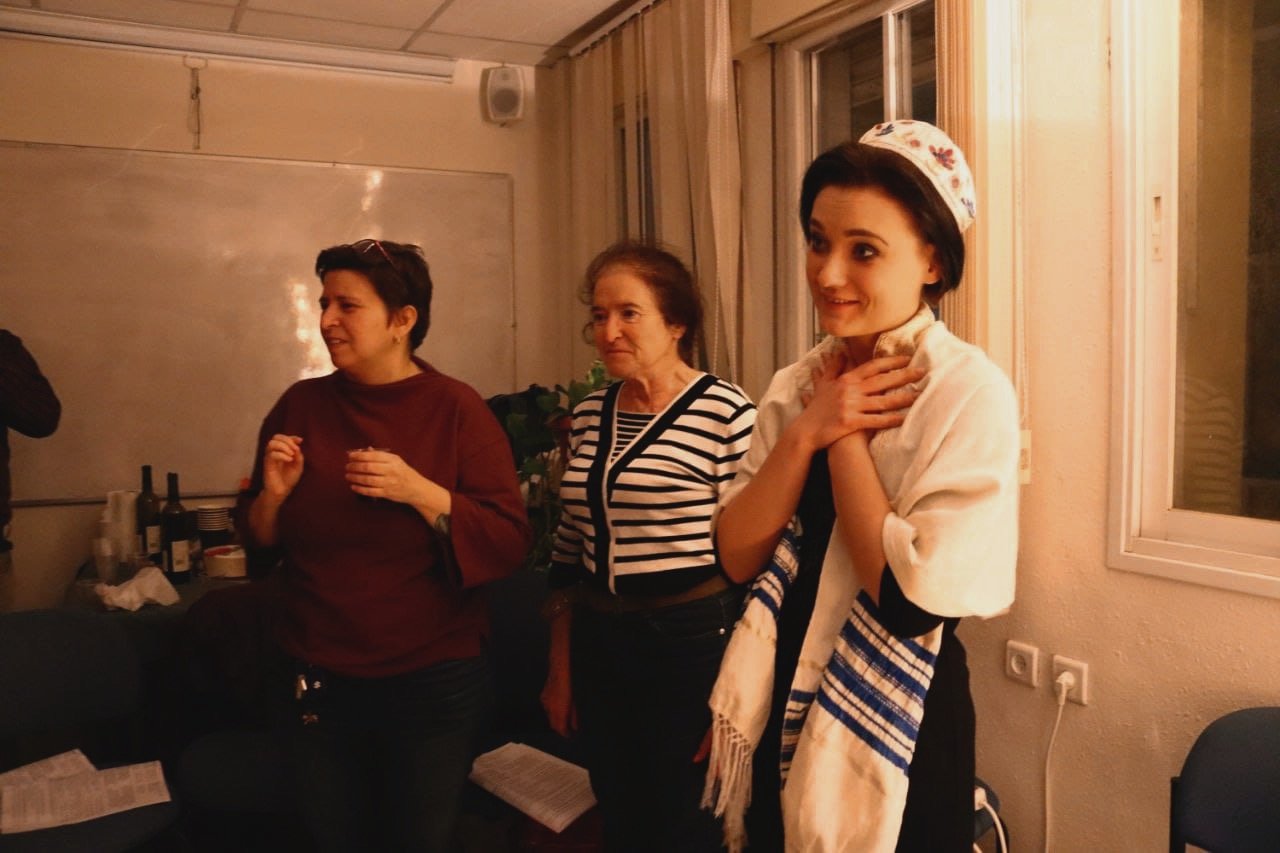 On February 24, 2022, rabbinical student Miriam Klimova and the Reform Jewish community of Israel, together with the rest of the world, were shocked by the outbreak of war between Ukraine and Russia. This wasn't any war, but a battle that hit close to home for Klimova's Reform Congregation, Shirat HaYam, Haifa, whose membership consists largely of veteran and new immigrants of Ukrainian and Russian ancestry.
Klimova remembers that the very next day at Kabbalat Shabbat services, she saw the confusion across everyone's faces. In one room sat those whose relatives and friends lived in the attacking country, and in the other room, sitting separately, were the relatives and friends of the country under attack. Some people shouted: "Why should we pray! We need to do something to save people." Others sat motionless, washing away their tears with an expression of embarrassment on their faces.
"Many times at night, there were messages in the community chat, such as: 'For hours, my daughters have not answered. They are in Kharkiv, in the basement; the city is being shelled by missiles. Please pray for them!'" shares Klimova. "The world was crumbling before their eyes, memories of the green landscapes of their youth being replaced by painful pictures of the present."
Despite conflicting points of view between members of the congregation early on, the community of Shirat HaYam did not let the war divide them. "We all are immigrants," Klimova said in her address to the congregation on that fateful day. She went on to share that everyone in their community has faced generalizations, stereotypical perceptions, and discrimination in their lives. It was important for her to convey to them that each person should be seen as an individual and that they need each other's support like never before.
In partnership with Women of Reform Judaism (WRJ), IMPJ raised funds so that Shirat HaYam and other Reform congregations could provide a warm, embracing community and come together for Jewish holidays and Shabbatot in a safe space. Together, this support created workshops and resources helping to integrate refugees into Israeli society, as well as providing legal aid and access to rights to those stopped from entering Israel. And, of course, a crucial element of our joint support was spiritual and holistic care.
As decades of war and trauma have already taught this community, support is more than helping to provide basic material necessities to those who have lost their homes. To truly help these torn families heal, an anchor was needed to build hope. An 'anchor' that could possibly change the trajectory of these families' lives, instead of having this tragedy define it. Klimova, together with additional rabbis, lay leaders, and volunteers, began to provide hundreds of hours of pastoral counseling and spiritual care around the clock.
Talya Dubrovska, 24, who escaped from Kyiv, shared: "The rabbis of our Movement are extraordinary people. They have a big, open, and generous heart; they all selflessly give their love to people. Thanks to them, my life sparkled with new bright colors."
Ironically, this all happened with Passover right around the corner: the Jewish holiday of Exodus, a time for families to come together, an opportunity to celebrate freedom. For those who escaped the war zone, this time of year brought out mixed emotions. Refugees felt grateful to have escaped their own Mitzrayim (Egypt) and to be safe within a supportive space. Olim Hadashim (new immigrants, a status entrusted only to those eligible for Israeli citizenship under the Law of Return) were even able to allow themselves hope at the prospect of establishing a new home in Israel.
To help process these emotions and bring people together during a core celebration of the Jewish calendar, IMPJ held eight community-wide Passover Seders—seating 750 immigrants from around Israel! The unique combination of those who had escaped the war in Ukraine and more established veteran FSU Olim, who had been in Israel a few years, brought a sense of comfort to refugees who were able to see the possibilities in store for them as Reform, Ukrainian-speaking Jews living in Israel.
Simultaneously, however, the lingering feelings of fear and helplessness were suffocating. Many still had family and friends still in grave danger in Ukraine, including the elder sons, husbands, and fathers who were prevented from leaving. Many Ukrainian women effectively became single mothers overnight during one of the most terrifying times in their own and their children's lives.
With the help of organizations like WRJ, IMPJ began operating an initiative called Women's Empowerment Circles, designed to provide emotional support, tools, and coping techniques to these women. Ukrainian immigrant, Natalia Gordievska, from Odesa, who escaped with her two daughters, described these circles: "I especially liked meetings with the women's circle in the congregation. I feel like I can breathe. I am happy to know that there are such wonderful people who are always ready to help. Now I am sure that wherever I go, I will find understanding, empathy, and support in the Reform community."
Back in Klimova's congregation, more than seven months after the shocking announcement of war, refugees and Olim, both veteran and new, are slowly finding a sense of family in their new community.
Rabbinical student Klimova reflects on their progress: "When a refugee from Ukraine recently arrived at our congregation, she spoke to me in Ukrainian. Before the services began, I spoke to her and explained that we all support Ukraine but that our congregation is made up of people who came from Ukraine, Russia, and Belarus—some who came 20 years ago, some who came a few weeks ago—and so that everyone could understand each other, we speak Russian in the congregation. She was confused and uncomfortable, but a prayer for peace in Ukrainian (written by Klimova) let her know that she had come to a place where every member was ready to support her. Ultimately, the message was that this community was open to the feelings and tragedies of all, to hear them, and to hold space for them no matter how painful. Human values must be stronger than war.
Related Posts
Image
In early November, I drove from Los Angeles to San Diego to attend the 2022 Early Childhood Educators of Reform Judaism (ECE-RJ) Conference. Women of Reform Judaism had awarded ECE-RJ a YES Fund grant, and I was excited to engage with this impressive network of professionals.
Image
I have been fighting gender segregation and the exclusion of women for 18 years since I joined the Israel Religious Action Center (IRAC). The attempts to treat women differently and prevent them from enjoying equal rights are incomprehensible in a democratic state. WRJ has stood by IRAC in the struggle for a more equal, just, and pluralistic Israel. Together, we will make this vision a reality.
Image
The children went to typical summer camp activities like movement workshops, clowning, capoeira, ball games, crafts, etc., as well as special events, included a "Joker Day" in the circus, a day of culture through music and food, a day of challenges in Acco Park, a bilingual performance at the Acco Theater, and a movie at Movieland Haifa. Through all of this and more, 99 Arab and Jewish children we able to put down shared roots, create friendships, and build tolerance that will change how Arabs and Jews see and understand one another for generations to come.