Image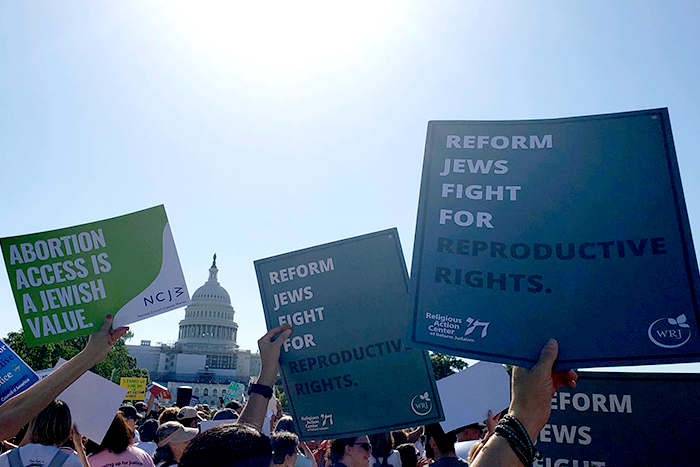 January 22nd will mark 50 years since Roe v. Wade and the first anniversary since the Supreme Court overturned Roe last summer, paving the way for states to ban abortion and restrict other critical reproductive health services. As you incorporate reflection, lessons, and advocacy around abortion access and reproductive freedom in your community's programming during this time, we share these resources.
Mark your calendar for Repro Shabbat February 17th-18th (Parshah Mishpatim) when the Reform Jewish Movement will join with the wider Jewish community to recommit ourselves to reproductive health and rights.
Here, you will find resources to guide reflection, support abortion access, and uplift the Reform Movement's commitment to abortion access and reproductive freedom in your congregations and communities for the anniversary, Repro Shabbat, and beyond.
For ways to protect and support access to abortion, check out:
To commemorate the Anniversary, WRJ asked individuals from across the Reform Movement: 'What does reproductive freedom mean to you?' Read their responses.
Related Posts
Image
22. That's the number of years I served on my Sisterhood board. When I started in 2000, I was six weeks pregnant. That baby has now graduated college, and his younger sister graduated high school. A lot happened in the years I served on my Sisterhood board, both in my life and the life of my Sisterhood. By the Fall of 2022, it was time to step back. It was time to get out of the way of other women so they could lead. Could you be holding back future leaders? Are you the one who is afraid that if you don't step up, no one will take your place?
Image
How many times have all of us convinced someone, or tried to convince them, they have to continue to GO even when they don't want to - because it is the right thing to do? Finish the course, take the next step, and don't fall back even if you want to. Chances are this conversation is not with God but comes from the learning, the education that has been planted within us.
Image
On February 24, 2022, rabbinical student Miriam Klimova and the Reform Jewish community of Israel, together with the rest of the world, were shocked by the outbreak of war between Ukraine and Russia.