Image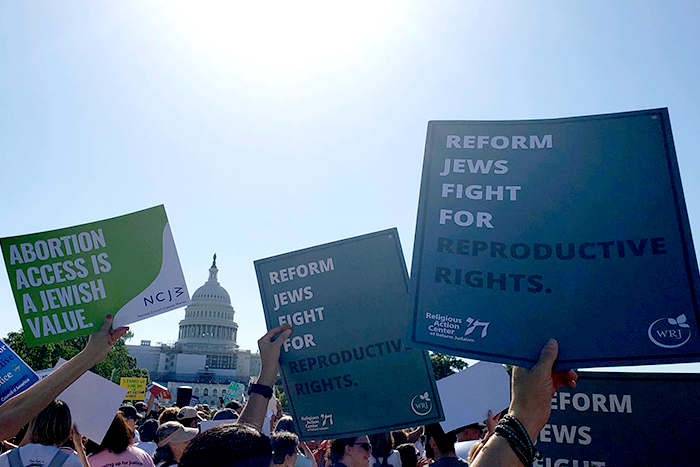 The RAC and WRJ are proud to sponsor NCJW's Repro Shabbat February 17th-18th (Parshah Mishpatim), when the Reform Jewish Movement will join with the wider Jewish community to recommit ourselves to reproductive health and rights. As you incorporate reflection, lessons, and advocacy around abortion access and reproductive freedom in your community's programming during this time, we share these resources.
Here, you will find material, released prior the 50th anniversary of Roe v. Wade, to guide reflection, support abortion access, and uplift the Reform Movement's commitment to abortion access and reproductive freedom in your congregations and communities for the anniversary, Repro Shabbat, and beyond.
Check out the NCJW website to find a Repro Shabbat event near you and additional resources to host your own Repro Shabbat, join with others, or practice privately.
For ways to protect and support access to abortion, check out:
To commemorate the 50th anniversary of Roe v. Wade on January 22, 2023, WRJ asked individuals from across the Reform Movement: 'What does reproductive freedom mean to you?' Read their responses.
Read the statement issued by Women of Reform Judaism President Sara Charney and Executive Director Rabbi Marla J. Feldman on the 50th anniversary of Roe v. Wade.
Read WRJ VP of Social Justice Shoshana Dweck's D'var Torah on Parashat Mishpatim.
Related Posts
Image
Women of Reform Judaism (WRJ) has long been at the forefront of promoting social justice, equality, women's rights, and human rights.
Image
Sharsheret, a national non-profit organization, improves the lives of Jewish women and families living with or at increased genetic risk for breast or ovarian cancer through personalized support and saves lives through educational outreach. Read what Melissa K. Rosen, director of training and...
Image
Is your WRJ-affiliated women's group planning an outstanding engagement, social justice, or advocacy project or program that could serve as a model for other women's groups? If so, take note—you may be able to qualify for a microgrant to help you defray the cost of that project or program.