Growing up with three sisters all within four years of the same age that I was, I inherently understood and appreciated biological sisterhood at an early age. The strength that comes from having so many females under one roof was evident to me in my youth, and I have always known that my sisters are there for me when I need them. Even though we don't live in the same house or even the same state anymore, this special bond is still there between all of us, and we relish the time that we get to spend together. It wasn't until I became an adult and had two teenage sons (and no daughters) of my own that I began to realize the importance – and necessity – of other forms of sisterhood in my daily life. As my sons have became older and their independence has grown, I have become more and more reliant on the friendships that I have forged through Women of Reform Judaism connections in my synagogue and district. These friendships were my first ties to Judaism and synagogue life and have continued to be anchors for me. I have often heard this repeated by many other women; it is our friendships that sustain and nurture us in our everyday lives. When I was diagnosed with breast cancer almost exactly one year ago, I naturally turned to my family for my support. My family, though, includes many more people than just my husband, sons, and other relatives. It also includes all of the "sisters" that I have from my WRJ associations. I received numerous cards and e-mails of love and encouragement from WRJ women who either have faced breast cancer themselves or know what it means to have a "sister" facing this health issue. It is very empowering to have so many women in your corner fighting for you! As I go forward with my own treatments and we (in the United States, at least) struggle with daily debates over health care and reproductive rights issues, I urge each of you to be diligent and proactive about your own health and that of others. Speak out not only for yourself but also for those who may not have found their voice yet. Be a sister for those who may not even yet know you are there for them.  We are, as always, stronger together! May the light of the Shabbat candles brighten all our lives. Please share this e-mail with your sisterhood. With warm regards, Jeanne Jeanne Kahn WRJ Executive Committee Member Temple Beth Ami Rockville, MD
Related Posts
Image
"6336 Hebrew letters…1686 Hebrew words…126 verses…208 lines…and always on the 3rd Shabbat after Simchat Torah. You can stop humming.
Image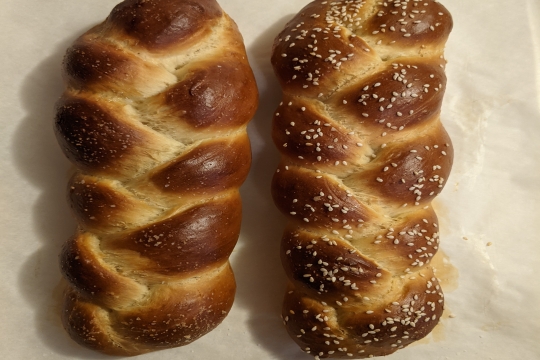 One of the advantages of remote work has been the ability for me to make challah each week for Shabbat.
Image
The fight for freedom of expression in all its forms is not easily attainable, but one we know is crucial to the progress of the State of Israel.