Image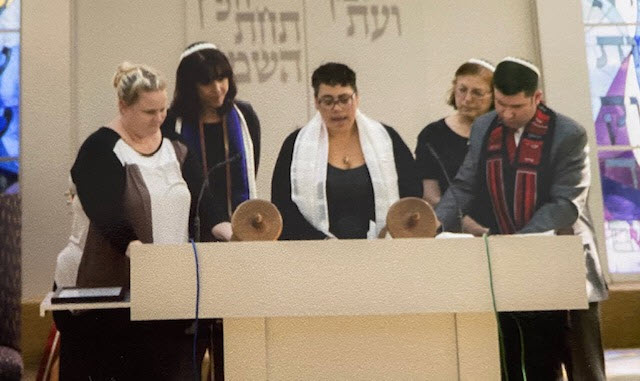 Hi, I'm Michelle Singleton. I am a woman, I'm bi-racial, a Reform Jew, a mother, a wife, and a working professional. It's a mouthful. And while I belong to all these minority groups, I would not change a thing. I've had experiences many others will never enjoy. I've had the privilege to walk in the shoes of many. 
I was born in Southern California, a place where everyone belongs – at least on the surface. I never questioned why my parents looked different – my mother is white and my father was black – or why my father, a black man, was the only black face at services. I didn't question when my "friends" at school asked what I was. I replied that I was an American and they laughed. I wasn't sure why they were laughing, what was different about me. I thought I looked like them. I have olive skin, I'm a California native who spends time in the sun – I thought it was a tan. After this, I asked my parents, what am I? I loved my parents. I really do not remember ever looking at skin color, at least not then.
I went to Sunday school with children who were white. There were no mixed children, but I never felt excluded or left out. I did not experience anything like my own children did. Growing up, they felt different, excluded. I don't remember questioning why I was Jewish or even being afraid to be Jewish. I wore my Star of David proudly, enjoyed Sunday school, and shared the Jewish holidays with my non-Jewish friends.
I have been very lucky. I've never experienced feeling left out when participating in synagogue life. I always felt as if I belonged. Only once did someone ask if I was a Jew by Choice.  
When I was engaged, I wanted to be married in a synagogue but my fiance' (now hubby) was not Jewish. In order to be married in the synagogue, we were asked to attend an Introduction to Judaism class. My hubby and I drove every Sunday from Orange County to Stephen Wise Temple in Los Angeles to learn together,  question and share stories with a group of new Jews, old Jews (like me), and our leader, Rabbi Michael. He was terrific. He helped explain things and shared some personal stories with us. It was a wonderful experience – until the day we explored the Holocaust.
There were both Jews and non-Jews, and the level of feeling was different for each of us. Rabbi Michael has visited some of the camps, and he put together a montage of photos and stories. He walked us through what it was like for him to walk in those long-forgotten places. He shared stories of what it was like not to be in camp as a prisoner but what it was like from the outside. I tend to be more emotional, so as we looked at pictures of camps, people, and places, comparing the past to the present, my emotions were on alert. My hubby moved closer to me. I've always felt a connection to the past – an indescribable feeling of melancholy and loss.
In our class, there was a woman who was engaged to a rabbi but attended the class alone. When it was time to ask questions and discuss the stories and pictures shared with us, she stood and asked, "Why did we allow this to happen to us?" The class was in an uproar. While others were angry, I was in tears. I stood up and reminded everyone that this is why we continue to talk about the Holocaust – people need education and understand that we did not let this happen to us. I cannot say for sure if I made a difference to others in the class, but I can say at that moment all talking stopped. The class went silent. I like to think it was because each of us took a moment to breathe and remember why remembering is important. We must remember, we must share the memories. This incident has definitely stayed with me for almost 30 years, and I continue to keep it in the back of my mind whenever I hear people who do not understand the importance of history. 
History consumes us, it repeats, and if we do nothing it will occur again. Think about what is happening across the country today. The events of the past year have made me pause and think about my own family once again. My paternal grandfather was a sharecropper in Louisiana. Although I never got a chance to meet him (he died before I was born), he is an influence in my life. He worked the land for someone else and was never able to own his own land in Louisiana, and when he went to town he had to use the back door to most stores. My grandfather, though fair-skinned, was still a black man in the south. While I am sure he tried to vote, Louisiana was not the place for a black man with new ideas. He moved his family here to California where he could own land and his own business and exercise his right to vote. My father reminded me of my grandfather every time I thought about not voting. He reminded me of the importance of voting every election and getting my voice heard. He reminded me of my grandfather and his belief in the system we have. I keep both men with me always, and I have tried to remind my own children and their friends about the importance of voting. Voting is a right and one that should not be forgotten or easily given up. It is the one way we have to remind those who represent us of who we are, what we desire, and what future we want to be part of. Voting rights should never be questioned. I am saddened by what is happening across our country.
I hope sharing these two stories helps you to remember who you are and what shaped you. I have the privilege of sharing a history with some pretty great ancestors that managed to raise their families even in times of struggles. My family history is rich with so many different stories and they are what makes me who I am.
Michelle Singleton is a lifelong Southern California resident, married with two grown children and a chihuahua. Thanks to a good friend and rabbi (Rabbi Heidi Cohen), Michelle has gotten more involved in social justice activities with the Religious Action Center of Reform Judaism (RAC) and her community. She loves being Jewish and crocheting.
Related Posts
Image
Years ago, when I was juggling work, community volunteerism, and WRJ, I was leaving the JCC one night after a meeting.
Image
What spoke to me most about these excerpts is the idea of bestowing all of our knowledge to future generations, even though we may not physically benefit from it during our time on earth. Spiritually, knowing that there's a chance "the kids are going to be alright" helps me stay centered in an unbalanced world. I hold fast to the idea that what I pass along or model for others will allow for a better world, a Promised Land, for generations to come—the future's children.
Image
This week's Torah portion, D'varim, is the first parashah in the book of Deuteronomy. It begins with a series of speeches given by Moses to the Israelites. In Hebrew, the word d'varim is defined as 'words,' yet it means not just 'words' but also 'things' or 'matters.' D'varim can be weighty or significant. D'varim shows that words matter.