Image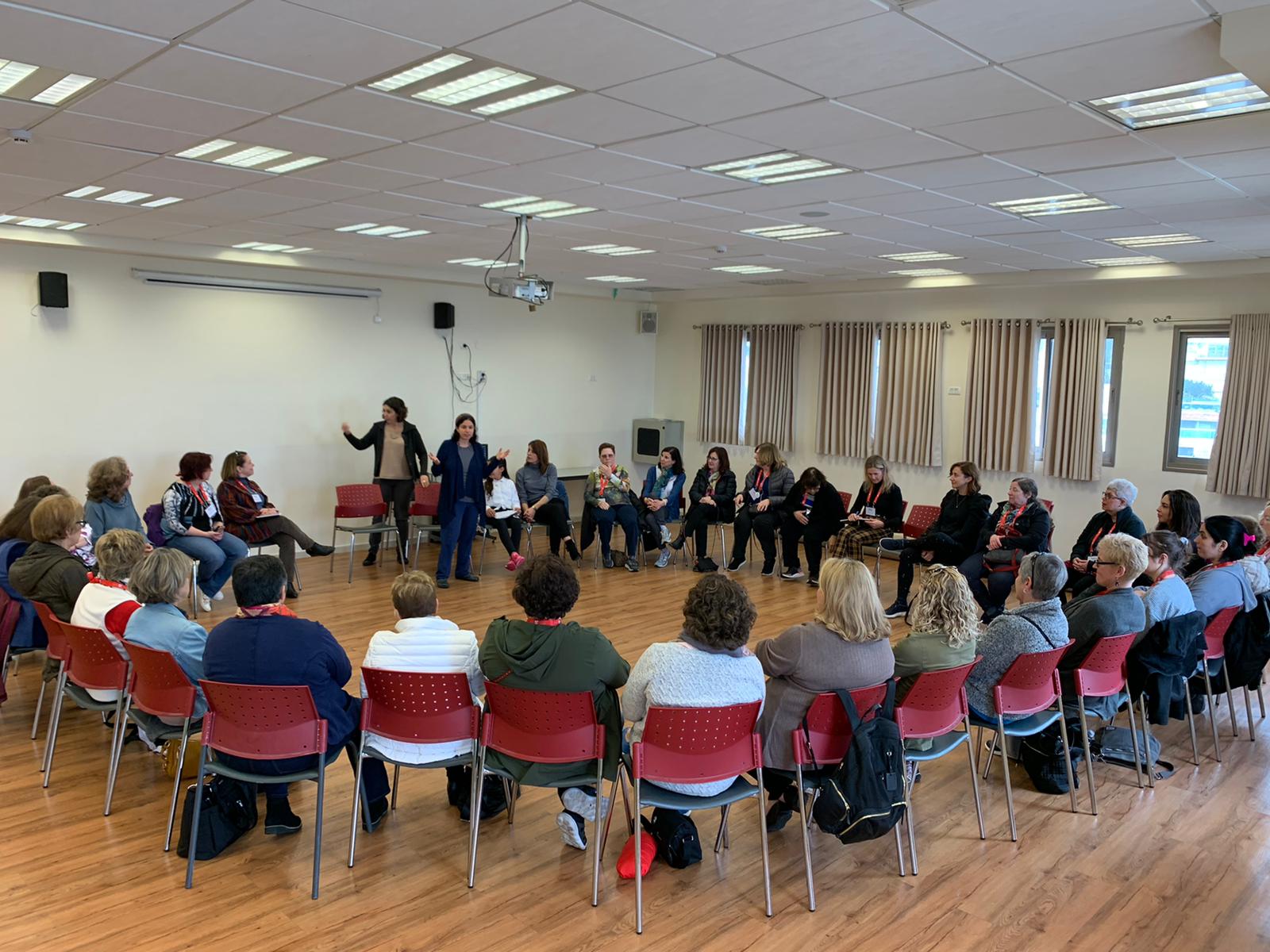 The first few days of the WRJ 2020 Israel mission have been full of new and interesting visits. We spent Erev Shabbat with the community of Beit Daniel in Tel Aviv, where we were welcomed like old friends, and in fact, many of us saw old friends there. Beit Daniel is the hub of Reform Movement activity in Tel Aviv, and we were delighted to learn about their inspiring programs over Shabbat dinner with Rabbi Meir Azari and Rabbi Galia Sadan.
Shabbat morning began with a beautiful worship service led by our special guest, Rabbi Lisa Silverstein. We had a bit of time to explore the center of Tel Aviv, where many of us enjoyed a chocolate-infused lunch at Max Brenner's. A tour of the Museum of the Jewish People (Beit Hatfutsot) followed. After that we enjoyed a graffiti tour of Tel Aviv's bohemian district, where we viewed the fascinating and entertaining wall art, revealing an urban, modern, progressive response to societal issues. After a festive meal and dinner in Jaffa, we had the opportunity to learn about the World Union for Progressive Judaism (WUPJ) from Rabbi Daniel Freelander, former WUPJ president, who happened to be in Israel for meetings with the Jewish Agency. And this was just the highlights of the first day!
On Day Two, we continued to learn more about the Reform Movement in Israel, meeting first with David Bernstein and Anna Kislanski from the Israel Movement for Progressive Judaism (IMPJ), who shared with us information about the rapid growth of Reform Judaism in Israel and gratefully acknowledged the significant support that WRJ has provided over the years. Heading to Haifa, we had an inspiring visit to the Reform Movement's Leo Baeck Education Center, which provides innovative educational opportunities and community center services to the mixed Arab and Jewish population. We were pleased to meet the students and offer a certificate to them for their outstanding Arab – Jewish kindergarten program, which recently won WRJ's Choice Award of $10,000. 
As I am writing this blog, our intrepid travelers are enjoying a relaxing visit at the Carmel Forest Spa, which is in a beautiful hillside setting with walking trails and glorious spa services. From here we head to the Ein Hod artist colony to meet with artists and visit galleries. After that, we are off to the Tulip Winery to learn about the winery's commitment to providing employment, dignity, and partnership to the town's large community of adults with special needs. Of course, we may imbibe a bit as well!
We have been blessed to have Rabbi Lisa Silverstein as our special guest, who has inspired us with her warmth and beautiful singing for Shabbat worship, as well as her lessons in modern Israeli music and morning yoga.
Future visits will include more special projects as well as touring in Jerusalem. We are looking forward to celebrating Rosh Hodesh with Women of the Wall and meeting with the North American HUC-JIR students who are studying for the year in Israel. 
As always, we pack a lot into our missions. There is something for everyone – first-timers, veteran travelers, insiders, and those who are new to WRJ and Reform Judaism. We will no doubt return home exhausted yet energized by all we have learned!
Related Posts
Image
What do we do when we approach a crossroads in our lives? These moments define us. Often the path is not clear and we are unsure of what challenges or opportunities lie ahead. Anticipation, uncertainty, and excitement inhabit our consciousness. Will I make a good decision for myself and others? What would it be like if you were at the shore of the Sea of Reeds on that fateful day when the sea parted? Should we look ahead or behind?
Image
What I love most about WRJ is the feeling that I make a difference even as an individual. My donations to the YES Fund help, the advocacy work done through the RAC makes our voices heard and the women I meet.
Image
We want to wish you a happy and healthy secular new year!