Image
WRJ has been at the forefront of social justice advocacy work in the Reform Movement for more than 100 years. In that vein, the 2021 WRJ Resolutions Committee is excited to propose two new Resolutions to WRJ. Here is everything you need to know about this year's WRJ resolutions.
What are WRJ Resolutions?
Resolutions are statements of WRJ's concerns, views, and values.
Resolutions are the way we create WRJ policy enabling us to take public policy positions on issues of urgency and relevance and support activities around these issues.
How are WRJ Resolutions created?
The WRJ Resolutions Committee determines whether to recommend that WRJ takes a social justice position in a formal resolution on a particular issue.
The Committee considers whether WRJ has an existing policy on the issue, how well the issue aligns with WRJ's strategic high priorities for advocacy, and whether it is actionable by our women.
What are the two new proposed Resolutions?
What are the next steps?
All sisterhoods, women's groups, and individual members should educate themselves about the proposed Resolutions. Please bring them to your sisterhood/women's group boards for consideration. We have prepared a brief video explaining the Resolutions and the process:
On February 22nd at 7:30 pm Eastern time, WRJ will hold an informal, informational Zoom session. All are welcome, so please attend and bring your questions and concerns.
At the upcoming WRJ Fried Women's Conference in March, there will be a workshop where a panel of experts will address the critical issues raised in the proposed Resolutions.
The WRJ Legislative Body will vote on the proposed Resolutions at the virtual Legislative Body Meeting, which will take place on March 18th at 7:00 pm Eastern time. Due to the virtual nature of this meeting, the discussion will be limited at that time. 
Once the Resolutions are approved, WRJ will issue Advocacy Guides with advice on how we can all take action on these important issues.
All concerns and comments should be addressed to the Co-Chairs of the Resolutions Committee, Karen Goldberg and Judy Wexler. Purely editorial/grammatical comments should be sent by February 19th. Please bring other, more substantive, comments to the February 22nd informational Zoom session, or provide them to the co-chairs in advance of the March 18th Legislative Body Meeting.
We look forward to having these discussions with you and continuing WRJ's tradition of championing numerous critical social justice issues in the work of tikkun olam, repairing the world.
Related Posts
Image
"6336 Hebrew letters…1686 Hebrew words…126 verses…208 lines…and always on the 3rd Shabbat after Simchat Torah. You can stop humming.
Image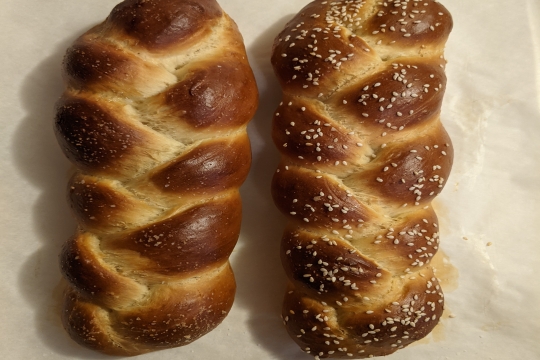 One of the advantages of remote work has been the ability for me to make challah each week for Shabbat.
Image
The fight for freedom of expression in all its forms is not easily attainable, but one we know is crucial to the progress of the State of Israel.