Image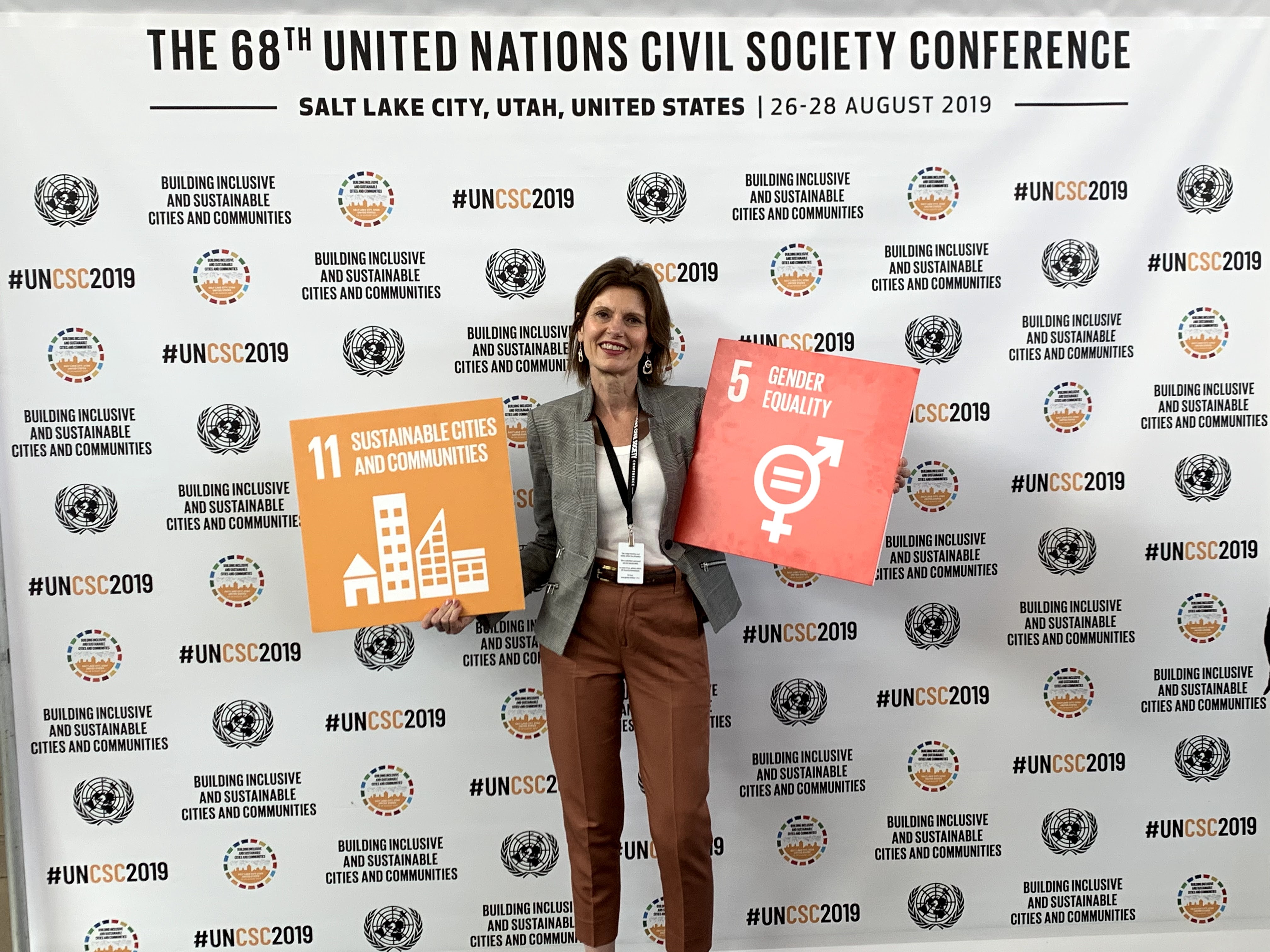 This is the season for introspection, awakening, and goal setting. Rarely do we focus on global goals, after all, how can one person change the tide of violence, poverty, climate change, and "human wrongs"? These problems appear insurmountable, so we concentrate on what we can control – ourselves.
The journey to self-improvement is reasonable and worthy. Yet, we cannot disconnect ourselves from our larger family–the human family. Each of us can contribute to the well-being of the human family if we make an individual goal of working together to overcome these injustices. WRJ provides a vehicle for Reform Jewish women to make a difference globally by allowing each of us to address injustices in our local community and more broadly, if we choose.
Our UN team, Vivian Blumstein, Sandra Abramson, and myself, as the primary UN representative for WRJ, focus on global issues. I love being a UN representative on behalf of WRJ. This role is about expressing the values at the UN that are important to WRJ members such as human rights for all, including gender equality, interfaith harmony, and supporting the State of Israel.

The UN team focuses on meetings and events that align with the principles of the WRJ mission statement, specifically joining like-minded representatives of NGO's that have a similar goal of "strengthening the voice of women worldwide and empowering them to create caring communities."
Together we advocate to make the world a better place by bringing to the leaders of the world our strong collective voice for the world we want. 
In my many years of being a WRJ UN rep, I have had the privilege of working with those wishing to make sure that though we are different, we are one human family, taking collective responsibility in supporting one another.
Here are some highlights:
Early in my tenure, I worked with the World Evangelical Society to ensure that Western Wall remained part of UNESCO's world heritage site as both a Jewish and Muslim site, rather than be classified solely a Muslim holy site, as put forth in a resolution intending to erase all Jewish historical ties to the Western Wall.
Together, with our Executive Director, Rabbi Marla J. Feldman, we ensured that the Reform Jewish voice was heard at the UN during the annual Interfaith Harmony Week. 
I created an interfaith panel of representatives from three religions to educate the international community on Reform values. Andrew Keene, of WUPJ, and I submitted a workshop proposal, titled "Progressive Voices of Faith: An Interfaith and Intergenerational Dialogue" which was selected and enabled us to present at the annual UN NGO (non-governmental organization) Conference.
Together, the panel was able to convey the primary tenets of our individual beliefs in a way that was inspiring—through song, slides, and a robust question-and-answer session following our panel discussion.
One of my favorite events showcasing the power of women's ingenuity was during a conference when the UN addressed human trafficking. Women from Iceland came up with a novel approach to combat human trafficking by posing as prostitutes. Through this endeavor, they ultimately had 300 men turned into the authorities.
 Vivian has covered a wide variety of sessions and recently wrote a report on the global implications of women's uprising in Iran. She also wrote about the mental health effects of climate displacement, along with the many other sessions she has attended, reported on, and spoken about.
Sandra has written and attended meetings of the NGO/CSWNY which is a platform for the voices and leadership of feminists and women's rights organizations globally. Look for her blog on the WRJ website.
Are you interested in learning more? Might your sisterhood or women's group be interested? We can meet with you in-person or online. Connect with the Speakers Bureau to have a WRJ UN representative speak at a an upcoming event, consider sending a request to the Speakers Bureau to take your members on a tour of the UN and arrange a speaker from the UN, or invite us to be a scholar in residence, speaking to the different groups at your synagogue including youth. We would love to connect with you.
 
Related Posts
Image
On Sunday mornings and Tuesday evenings, when members of the Shlichei Tzibur Prayer Leadership program meet for virtual classes, individuals get to practice leading a prayer, a song, a psalm, or a kavanah (intention) of their choice. For the more seasoned prayer leaders, this is an opportunity to...
Image
Earlier this month, Women of Reform Judaism attended the Religious Action Center's Day of Action as part of the Power for Purpose: The Reform Movement's Campaign for Climate Justice.
Image
WOW! I have just attended my first in-person Commission on Social Action (CSA) meeting. I have attended several meetings on Zoom, but it is different in person. There were many expert speakers who came in to talk with the group. The topics were serious but enlightening.