Image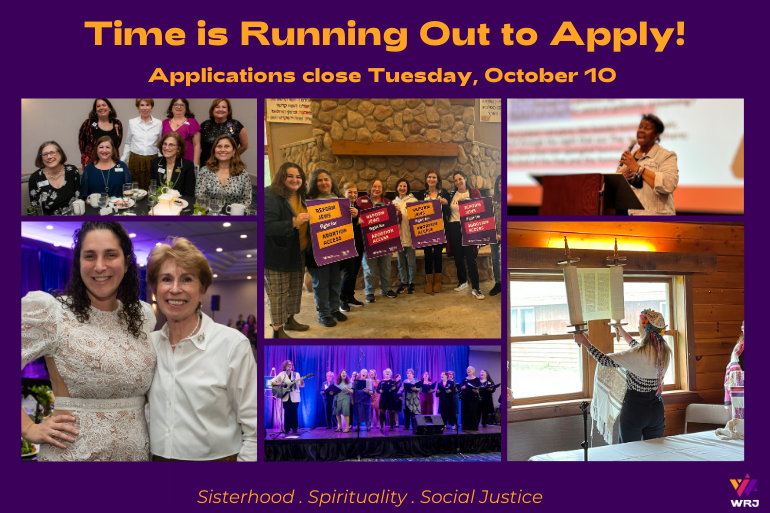 Thank you for your interest in applying to WRJ's North American Board! Applications have now closed for a term beginning in 2024. Please keep an eye out in summer 2024 for the application to join WRJ's Board in 2025.
We are excited to learn more about you and how you can use your talents and skills to enhance our organization and bring to it a unique perspective. There is no "right" path to WRJ Board service. We encourage you to apply if you align with the mission and work of WRJ and want to share your voice with WRJ's Board. 
"My board service allowed me to work with amazing women from around North America to strengthen Reform Judaism and advance the call for social justice. We are so much stronger as one voice working together than just as individuals, sisterhoods, or women's groups. The work that WRJ has accomplished and will continue to accomplish is mind-blowing in its depth and breadth. It has been a huge honor to be part of that work through serving on the Board." - Sally Frank (WRJ Board member 2019-2023)
Below, please find information about the role, our timeline, and the application process. For more information about Women of Reform Judaism, please review our mission statement and core values, our history, and advocacy initiatives. If you have any questions about Board service or the application process, please email WRJ Director of Events and Leadership Amanda Feldman at wrj-board@wrj.org.
WRJ's North American Board adopts an equal opportunity stance. We welcome all candidates that fit our criteria for serving a Board term (please see the Criteria for WRJ Board service below). We are committed to creating an equitable, inclusive environment for all within WRJ that is representative of the rich diversity of the Reform movement across North America.
Board Service Application Timeline & Important Dates
August 1, 2023: Applications open
October 17, 2023: Applications are due (*note this deadline has been extended from October 10, 2023)
October 30, 2023: Endorsement forms are due from your reference
Mid-November through early December: Interviews are conducted
January-February 2024: Applicants are notified of their status; the Board slate is announced
May 28-30, 2024: Board meets to elect and install new Board members in New Orleans, LA (immediately preceding the Fried Women's Conference, May 30 - June 2, 2024). 
 
Read a complete list of application FAQs here:
THANK YOU!
If you have any questions, please reach out to WRJ Director of Events and Leadership Amanda Feldman at wrj-board@wrj.org. 
Subscribe for Updates from WRJ