WRJ Celebrates
Rabbi Marla J. Feldman's Career and Retirement
Join Women of Reform Judaism on Thursday, April 20, 2023, as we celebrate the career and retirement of its Executive Director, Rabbi Marla J. Feldman. The event will take place at the Sheraton Suites Hotel at Chicago O'Hare.
Come to a celebration dinner and hear tributes to Marla from Reform Movement leaders. Enjoy a special concert by renowned Jewish musician, composer, and producer Beth Schafer, along with WRJ's signature choir. 
Tribute journal ads and tickets are available for purchase. All proceeds will benefit WRJ's Rabbi Marla J. Feldman Social Justice Fund. For assistance, email tributes@wrj.org.
Image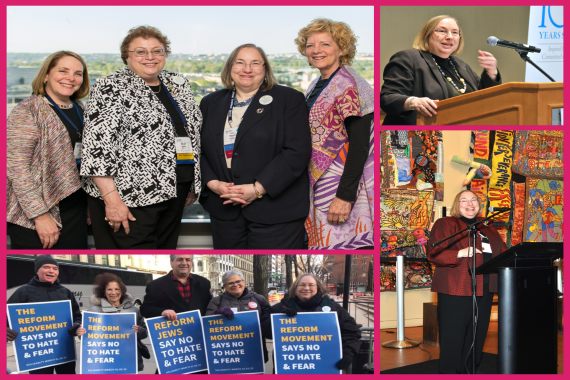 We are honored to have WRJ Past Presidents Blair C. Marks, Lynn Magid Lazar, and Susan C. Bass chairing this celebratory event. 
Why We Are Renaming the Social Justice Fund
Social justice has been a pillar of WRJ throughout its 100+ years and is a key issue that Marla has advanced and championed during her 40-year career, including her prior roles in the Reform Movement. It is WRJ's honor to name its Social Justice Fund after Marla.
Our voice has never been more important than it is now. Your support of the Rabbi Marla J. Feldman Social Justice Fund will honor Marla's commitment to this cause and allow us to continue to engage women around timely issues and train them as leaders in the pursuit of justice.
Image
Rabbi Marla J. Feldman Social Justice Fund Donor Listing
WRJ is deeply grateful to our community of individuals, families, and sisterhoods for their ongoing philanthropic efforts and support of the Rabbi Marla J. Feldman Social Justice Fund. As a donor, you provide vital resources to uphold our commitment to social justice. If you would like to join this incredible group of funders, please contact Shari Schulner at sschulner@wrj.org or 212-650-4050.
$100,000-$249,999
Betsey Hurwitz-Schwab
$50,000-$99,999
Sara and Rick Charney
Shoshana Dweck/Resa Davids
$25,000-$49,999
Susan C. Bass
Linda O. Ferguson
Dale and Lynn Magid Lazar
Deborah Lelchuk
Blair C. Marks
$10,000-$24,999
Dr. Andrew and Cheryl Barenberg
Ken and Leslie Brier
Bruce and Ellie Feldman & Family
Carol S. LeBovidge
Ellen M. Miller
Rosanne and David Selfon
Lillian Silver
Andrea Stillman
Jane Taves
Dolores Wilkenfeld
$5,000-$9,999
Dorothea Brust
Janet F. Buckstein
Joanne B. Fried
Karen Schiffer Sim
Gail Spivack
$2,500-$4,999
Abigail Fisher
Jane F. Karlin
Julia C. Weinstein
$1,000-$2,499
Andrea Gingold
Karen Goldberg
Ken Handwerger
Pamela and Greg-Feldman Hill
Trish Joseph
Jeanne Whitman Kahn
Dr. Madelyn M. Katz
Alyse Kirschen
Becky Markowitz
Shelley Niceley Groff
Rabbi David Saperstein
Michelle Scheinkopf
Lauren Shapiro-Milana
Susan Singer
Carol and Jay Sterling
Union of Reform Judaism
Julia Wackenheim
Helene H. Waranch
Judith M. Wexler
*This list will be updated weekly.