Image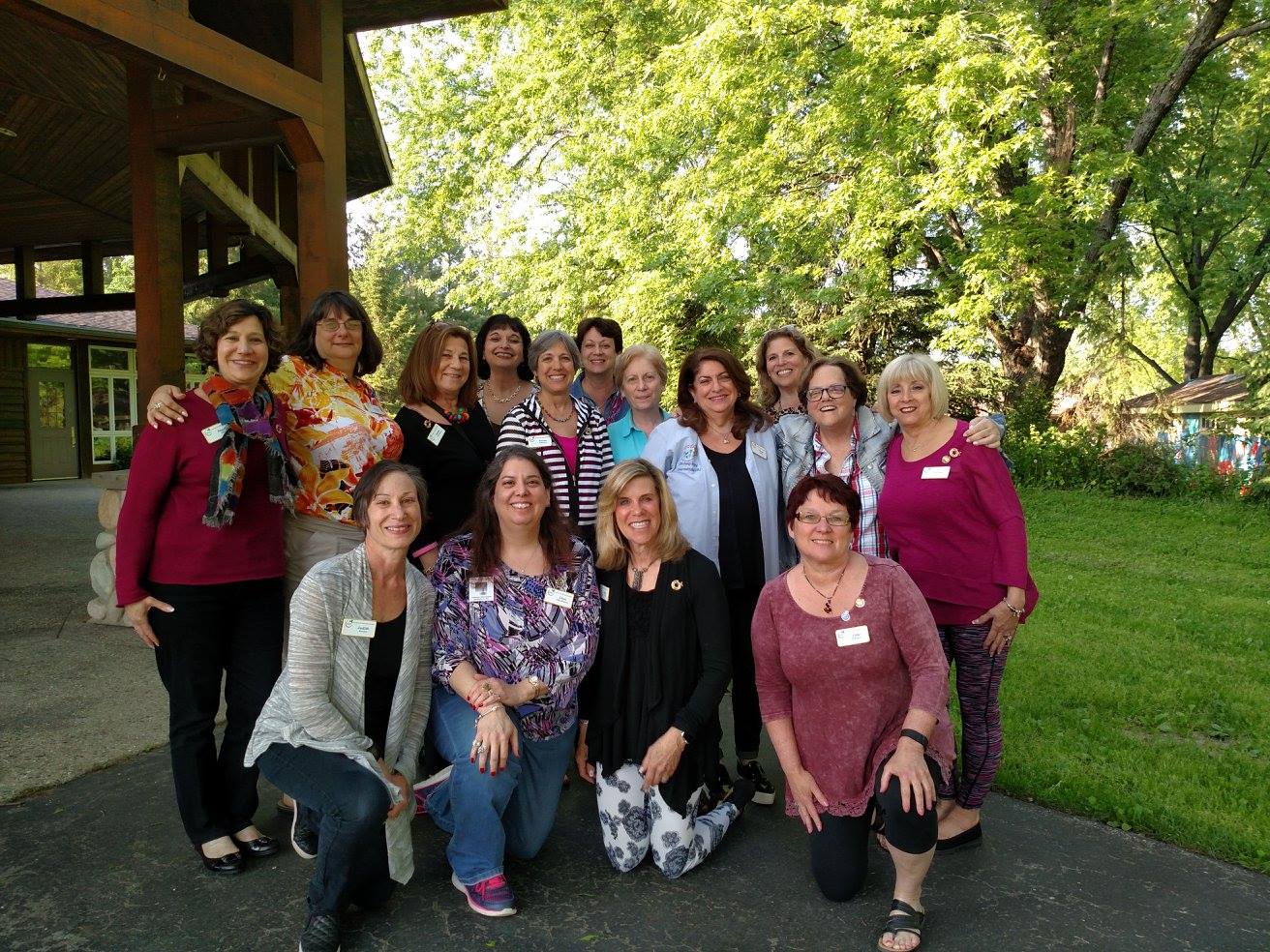 Our District
Given the widespread geographic distribution of women's groups/sisterhoods, and the necessity to communicate effectively with our local sisterhoods and women's groups, WRJ is grouped into districts.  WRJ Midwest District, which is one of eight districts.  In 2006, WRJ Midwest Federation of Temple Sisterhoods (District 18) merged with several states from the former District 20 to form our current WRJ Midwest District.  Our new district is comprised of sisterhoods from Illinois, Iowa, Minnesota, Nebraska, North Dakota, Northwest Indiana, South Dakota, and Wisconsin.
The districts serve as liaisons between the local sisterhoods/women's groups and WRJ and provide leadership training and support.  District leadership is available to provide hands-on assistance to our local sisterhoods and women's groups, as needed, in a wide variety of areas, including organizational issues, planning, and programming.  Districts also provide assistance with the implementation of the programs and projects of WRJ.  Sisterhoods and women's groups are encouraged to take advantage of the many services and programs offered by the districts.  
The geographic area assigned to each district varies greatly, ranging from three to twelve states.  Each district is further divided into smaller "areas" for accessibility.  All sisterhoods and women's groups, regardless of their district or area, are linked together as members of Women of Reform Judaism, sharing common goals and supporting the same programs.  Individual members are not necessarily assigned to respective districts. 
Leadership
The WRJ Midwest District is governed by a board of directors that is comprised of the Executive Committee (including members of the WRJ Board of Directors who reside in our district), chairs of standing committees, the president(s) of each affiliated sisterhood or women's group, and the past presidents of WRJ Midwest District.  The committee chairs report to a member of the Executive Committee.  
WRJ Midwest District Executive Committee

WRJ North America Board Members from WRJ Midwest District

WRJ Midwest District Board (Includes Sisterhood/Women's Group Presidents.  All sisterhood and women's group presidents are members of the WRJ Midwest District board by virtue of their position.  They have a voice and vote.)
WRJ Midwest District Past Presidents
WRJ Midwest District Organization Chart
Membership & Dues
Dues to WRJ and WRJ Midwest District are to be paid as women's groups receive dues from their own members.  WRJ dues for the fiscal year are $18.00 per member, payable by the sisterhood or women's groups to WRJ.  Annual WRJ Midwest District dues are $2.00 per member, payable by the sisterhood or women's groups to WRJ Midwest District.  WRJ's and WRJ Midwest District's fiscal year runs from July 1 to June 30.  All payments should be mailed before the end of May to make sure that they are properly credited. 

Questions can be addressed to Membership Secretary, Marci Kops.  A Treasurers Worksheet is located HERE.
WRJ Midwest District Logo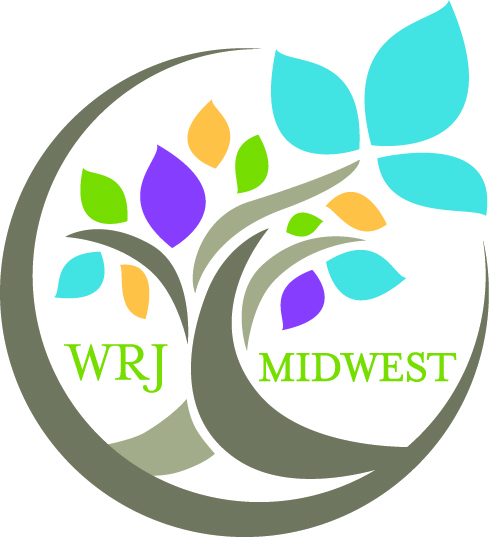 We are pleased to introduce the new WRJ Midwest District logo! We hope that our fresh new look fills you with the warmth, joy, and spirit of all that the women of the upper Midwest feel when we are together – in person or on Zoom - enjoying one another's friendship, ideas, and good deeds.
Our tree represents the tree of life (etz chayim) and bur oaks, as well as the prairies which characterize much of the upper Midwest, placing us geographically. We have incorporated the WRJ crescent with matching leaves and color palette, tying us to our North American organization. Vibrant aqua waters (Great Lakes and rivers), rolling green hills, purple prairie flowers, and golden wheat blowing in the breeze. And, a beautiful, fluid figure representing the women at the heart of everything we are.

Click here to download the WRJ Midwest District Logo.
WRJ Midwest District Pin
The profits from the sale of our district pin have been designated to go to the WRJ Midwest District Gloria Miller Memorial Scholarship Fund.  To purchase the new WRJ MD pin for $10.00 please click here.
Speakers Bureau
Need a speaker for a program? WRJ Midwest District has a terrific Speakers Bureau. Each Sisterhood is entitled to one speaker each year from WRJ Midwest District and one speaker every other year from WRJ at no charge.  For more information about the Speakers Bureau please visit the Speakers Bureau page.
Alumnae Association
The Midwest Alumnae Association was created to help former district board and past sisterhood and women's group presidents, district officers, and area directors stay in touch with the district and with each other.  Dues are only $18 for a two-year period.  For their dues, alumnae receive the Midwest Directory and Guide, the M'Kesher, information on Kallah and convention, and more!  

Please contact Alumnae chair Alese Goers with any questions about becoming alumnae. If you are no longer on our district board or your term as sisterhood/women's group end and wish to join the Alumnae Association, click here to complete an online form. 
 
Rhoda Hauptman Memorial Award for Excellence


This award was created to honor the memory of Rhoda Hauptman, the first president of the Midwest Federation of Temple Sisterhoods (MFTS), the predecessor of Women of Reform Judaism Midwest District.  The award is designed to acknowledge and publicize the accomplishments and achievements of individual sisterhoods and women's groups within the Midwest District, with the expectation that the outstanding programs featured will spark the creation of other innovative programs.  These awards are given out at our biennial district conventions.
Woman of Valor Award
  
At our 2010 WRJ MD convention, each sisterhood and women's group president and her board were asked to select one special woman for recognition to receive this individual honor at a luncheon. This tradition has continued, and the honorees are given a special pin for recognition.  The recipients are encouraged to proudly wear their pins alongside their other WRJ and district pins.  These awards are given out at district conventions.
WRJ MD Debbie Friedman Memorial Scholarship
We established a scholarship for campers at OSRUI in memory of Debbie Friedman. As Debbie's passion was music, our scholarship honors her memory by focusing on campers who also have a passion for Jewish music.  Each summer, two campers receive a $250.00 scholarship to attend OSRUI's Tiferet arts program, which combines music and the study of the arts with Jewish themes and living. 
WRJ Midwest District has a special relationship with our local URJ camps, GUCI and OSRUI--to learn more, click HERE.
OSRUI Heichal Ha Tarbut Kaye News - click here.