Image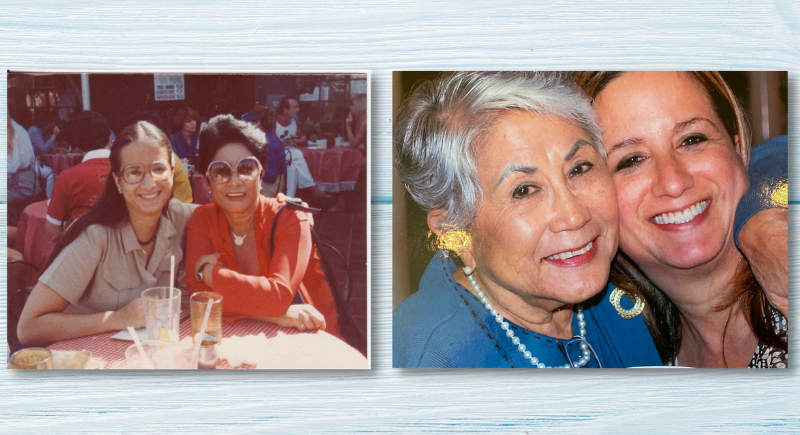 This Mother's Day will be even more significant to me this year. My mother, Maxine Rogo, was the parent who impacted my Jewish journey to WRJ. She drove me to religious school and insisted I study for my Bat Mitzvah. She dragged me to the temple kitchen to cook along with her sisterhood friends to prepare Shabbat dinner for the congregation. She forced me to attend a SCFTY Israel trip and gave me no choice but to join B'nai B'rith Girls in high school. These experiences gave me the motivation for my Bat Mitzvah, from observing women cooking together and serving dinner with such joy and connection to realizing my spiritual awakening praying at the Kotel and, through, BBG developing my early leadership skills.  
In 2009, one month after the death of my father – who was my Jewish parent, not my mother – she went straight to the rabbi and began her official Jewish conversion. This was a surprise to many of my friends, who always assumed she was Jewish. Through her year of studying Jewish holidays, customs, and traditions, I admired this little lady who traveled her Jewish journey while mourning her husband of 50+ years. When the time came to immerse herself in the mikvah, I had the honor to be present. The decision to convert only reaffirmed that her values and beliefs aligned with Judaism all along.
When my mom approached me a couple of years ago to gift me with the ability to bring my Gold YES Lifeline to Diamond, it was her acknowledgment of my involvement in WRJ. She understood the importance of continuing the work in Reform Judaism and issues that directly affect women's reproductive rights and equal pay. My mom, who turned 90 last year, was by my side when I received my Diamond Lifeline pin last October. My mom, who survived COVID-19 this past December, taught me to give back to your community, speak up when there is injustice, be involved in organizations that make a difference in our world through her strength and life example. She will be by my side when we celebrate Mother's Day this year.
Shari Carruthers is an active member of WRJ. A member of Peninsula Temple Sholom in Burlingame, CA, she has held various leadership positions through her sisterhood, Sholom Women, including being a Past President. She is currently serving as the Area Vice President for Pacific District as well as continuing her service on the WRJ North American Board.
Maxine Rogo is an involved member of WRJ at the sisterhood, district, and national level. She is a member of Isiah Women in San Diego, CA, and a proud member of the Pacific District where she participates with her daughter, Shari. 
---
As we approach Mother's Day, and perhaps reconnect in person for the first time in a year, we are reminded of the importance of generations coming together. And while we recognize it can be a day of reflection, memories, and joy, we know it can bring complex feelings, too. This spring, we wanted to take the opportunity to celebrate ALL of the women who make WRJ special. We asked some of our WRJ "sisters" to share how being a part of this community has shaped their formative years, continues to be an integral part of their lives, and how WRJ inspires them to think about the future.
We hope these stories in our campaign, L'dor V'dor: From Generation to Generation, demonstrate your impact. Your support enables WRJ to reach thousands of women, youth, and people through our signature leadership education and Jewish programming. Join us in honoring these women and their families as they pass down sacred Jewish values. Please donate to this ever-growing community with a gift today.
Related Posts
How did you wind up on WRJ's Board? While I have served on our synagogue board for the last eight years, it was after the 2016 presidential election that I found myself looking to my faith community for guidance, explanation, and inspiration. During this time, I discovered that I find meaning and...
Image
Women of Reform Judaism (WRJ) has long been at the forefront of promoting social justice, equality, women's rights, and human rights.
Image
Sharsheret, a national non-profit organization, improves the lives of Jewish women and families living with or at increased genetic risk for breast or ovarian cancer through personalized support and saves lives through educational outreach. Read what Melissa K. Rosen, director of training and...