WRJ has been deeply involved in addressing the gender pay gap internally in the Reform Movement and its institutions and will continue working on this issue both internally and externally. 
On average, women working full time in the United States are paid just 80 percent of what men in comparable positions are paid. Women of color make even less. Women of color are paid even less. Sadly, the gender pay gap exists also within Jewish institutions at similar rates. Salary data from Reform Movement professional associations reveals that Reform institutions are not immune from this societal problem.
Why is there a need for the Reform Pay Equity Initiative?
The issue of pay equity is often defined as a woman's issue, yet we know it to be an issue of human rights and social justice. By engaging the entire Reform Movement around this issue, we are reinforcing the message that economic justice for women is at the core of our fundamental Jewish values.  
What does the Reform Pay Equity Initiative do?
Through this effort, we have comprehensively assessed the salaries of the professionals who serve Reform institutions. In 2017, we used this data to professionally analyze the gender wage gap within the Reform Movement and published an analysis in the 2018 CCAR Journal. In addition to providing research and analysis of the wage gap, we have hired leading experts to conduct training and workshops and have presented at conferences, and published articles to educate Reform institutions about ethical hiring practices, implicit biases, and educate HUC students about negotiation skills. We additionally have provided grants to Reform institutions to conduct salary surveys and create educational materials to be distributed to the greater public. Currently, we are gathering data from 2019-2020 and analyzing the data to ascertain what impact we have made over the last three years. We continue to meet with our partner organizations on an annual basis to learn about important topics surrounding pay equity, discuss achievements, and look to areas that continue to need to be addressed within the movement.
Who is involved in the Reform Pay Equity Initiative?
The Reform Pay Equity Initiative is coordinated by Women of Reform Judaism (WRJ) and the Women's Rabbinical Network (WRN), with participation by all the arms of the Reform Movement, including affiliates and professional associations. 
What does success look like?
The Reform Movement champions many social justice causes, and this is one in which we can immediately affect change. By approaching the issue of pay equity in a multi-pronged, systemic, and integrated manner, by increasing awareness, and by changing the systems that have allowed this inequity to flourish, we will strengthen our institutions, bolster Jewish professional fields, and bring justice to working women.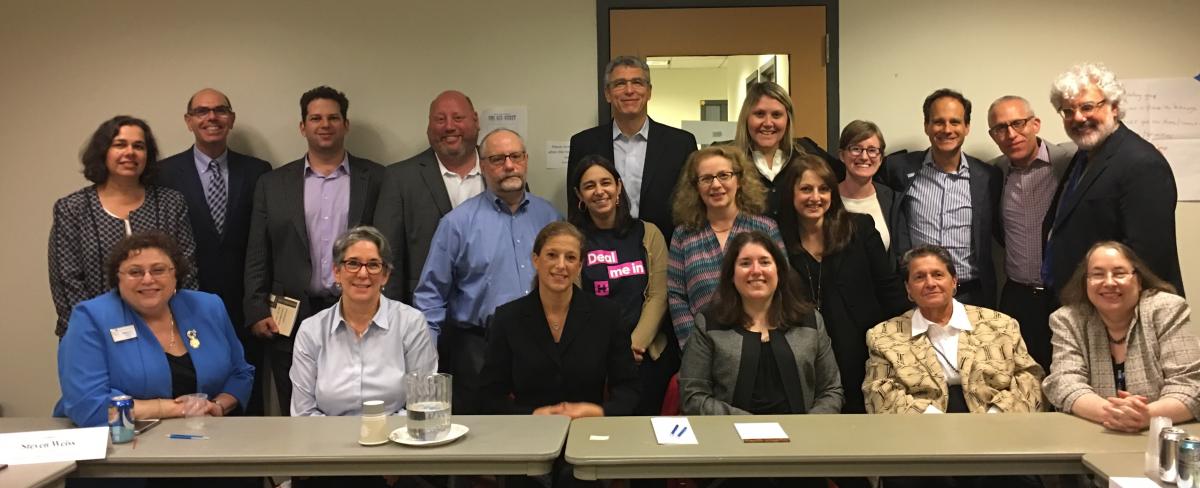 Resolutions & Statements
2015: Pay Equity
2009: Economic Priorities for the New Administration and Congress (Advocacy Guide)
2008: Paid Sick Leave (Advocacy Guide)
2007: Minimum Wage (Advocacy Guide)
1985: Economic Justice
1983: Equality for Women
1963: Equal Pay for Equal Work for Women
 
Advocacy Alerts
2015: Equal Pay Day Brings the Launch of WRJ's Pay Equity Initiative
2015: Women's History Month, Paycheck Fairness Act, Channel Passion into Action
2013: Comprehensive Sex Ed, Minimum Wage
2013: ENDA, Women in Jewish Organizations, New Israeli Ambassador
2013: Equal Pay, Gene Patenting, Rabbis in Israel
2013: Emergency Contraception, Equal Pay Day, and Consultation on Conscience
2013: VAWA, Fair Pay, and Women in Combat
2012: End Violence Against Women, Living Wage, Rights of the Disabled
2012: Sukkot, Paycheck Fairness, and Supporting Our Servicewomen
2012: Social Action Project Ideas, Eradicate Obstetric Fistula Worldwide
2012: Paycheck Fairness Act Up for a Vote in the Senate Soon
2011: Let's Talk Turkey, The Canadian Government Changes its Votes at the UN
2011: Important News to Consider and Actions to Take on Israel, East Africa, and the Paycheck Fairness Act
2011: Emergency Call-In Day for the People of South Sudan, Supreme Court Ruling in the Walmart Case
2011: Paycheck Fairness Act, Sacred Conversations, A Student Rabbi's Experience in Joplin, MO After the Disaster
2011: The Paycheck Fairness Act, Federal Budget
2011: ARZA and the Delegitimization Movement Against Israel, Women's Workplace Issues
2010: Unemployment Benefits, Gender Wage Gap, Reproductive Rights
2010: Women Helping Impoverished Jewish Mothers, National Medical Marijuana Week, Women in Administration FY 2011 Budget Request