Image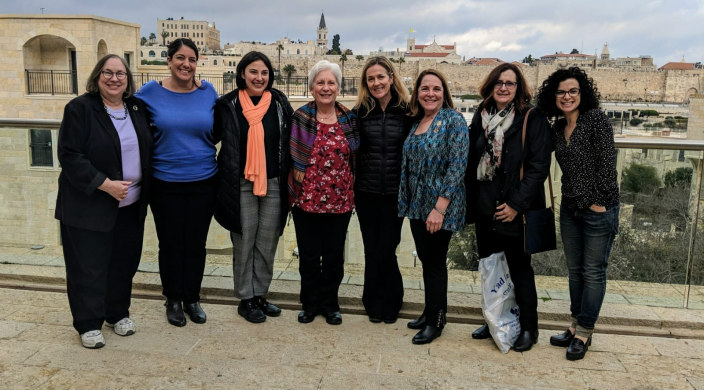 My WRJ story did not begin when I became the WRJ Executive Director in 2012. Nor did it start when I was a rabbinical intern for WRJ in 1984, having the privilege of working with then-director Ellie Schwartz and president Connie Kreshtool. In fact, my WRJ story begins with my earliest memories of celebrating Jewish life and tradition.
I was born and raised in an actively engaged Reform Jewish family, so of course, we were affiliated with a temple - Shomer Emunim in Toledo, OH - and my mother was a member of the sisterhood. As a child, my love of Judaism was shaped and nurtured by my family and my religious school experiences such as Hanukkah celebrations, Purim carnivals, model Passover seders, and the ritual moments of Consecration and Confirmation. The sisterhood women made those experiences possible and were ever-present. Perhaps most formative was my high school youth group experience in Young Judaea, a Zionist youth group affiliated with Hadassah. Although not a NFTY program, my life-altering high school summer Israel experience was made possible by a scholarship from the sisterhood and temple.
Fast-forward to rabbinical school, I was one of the hundreds of students over the years to receive a WRJ scholarship to enable my studies. During these years, I found my passion for social activism mirrored in the work of the Religious Action Center (RAC). As a RAC summer intern and then as the first HUC-JIR student representative to the Commission on Social Action of Reform Judaism, I had many opportunities to meet and work with inspiring NFTS/WRJ women who taught me the power of engaged women working towards the shared goals of justice and equality. Their names are synonymous with WRJ history and legacy: Jane Evans, Eleanor Schwartz, Norma Levitt, Betty Golomb, and so many more. So, when an internship opportunity arose to become the NFTS Critical Issues Liaison, I jumped at the chance to work closely with then-Vice President Judith Hertz to advance our social justice concerns. Then, we worked on economic justice issues for women, anti-abortion efforts like the Helms Amendment, and equal rights. Sadly, these issues continue to require our steadfast attention and advocacy.
My connections to WRJ continued throughout my professional career. As a congregational rabbi, youth advisor, and religious school director, the sisterhood women were my mentors, partners, and staunch supporters. As a JCRC director in Delaware and Detroit, it was the sisterhood women in local congregations who helped me launch community literacy programs, interfaith dialogue groups, and advocacy initiatives to protect church-state separation and advance women's rights.
Becoming the Director of the Commission on Social Action of Reform Judaism in 2002 was a logical next step in my career and a supreme honor. In that role, once again, I had the opportunity to partner with WRJ and work with our amazing leaders. Whether it was disaster relief in New Orleans and Haiti or the Nothing But Nets initiative to fight malaria in Africa, I could always count on WRJ. Later, as the URJ Director of Development, it was to WRJ and the YES Fund I turned when we sought to launch new initiatives like the Youth Engagement Campaign and PJ Library.
And now, coming full circle, I am blessed to lead this amazing organization and work with today's inspiring leaders to fulfill our mission to 
strengthen the voice of women worldwide and empower them to create caring communities, nurture congregations, cultivate personal and spiritual growth, and advocate for and promote progressive Jewish values.
WRJ has helped shape my Jewish life, from those earliest childhood celebrations to enabling me to achieve my personal and professional goals. True to our mission, WRJ strengthened my voice and empowered me with the skills and experiences that helped me become the leader I am now. That's why I support WRJ. I want to assure you that these same opportunities are available today so we can nurture the leaders of tomorrow,
 If, like me, you have been inspired and enriched by the work of WRJ and our sisterhoods, please give generously to WRJ's year-end campaign! 
Related Posts
Image
This week's Torah portion, D'varim, is the first parashah in the book of Deuteronomy. It begins with a series of speeches given by Moses to the Israelites. In Hebrew, the word d'varim is defined as 'words,' yet it means not just 'words' but also 'things' or 'matters.' D'varim can be weighty or significant. D'varim shows that words matter.
Image
Looking back at the first couple of weeks after the decision came down in Dobbs v Jackson Women's Health Organization, I think I processed our new reality by keeping busy. My focus was on providing education, action, and advocacy materials and support for WRJ and my synagogue community. From advocacy guides to webinars to a local "Postcarding and Planning" evening with friends, I kept the full pain of the decision at arm's length. But then I heard about the college students who successfully advocated for a Plan B vending machine installed at Boston University, and the idea is going viral. And then I thought about my children, and everything hit home.
Image
Here are some resources and actions to protect and advance abortion access.