Image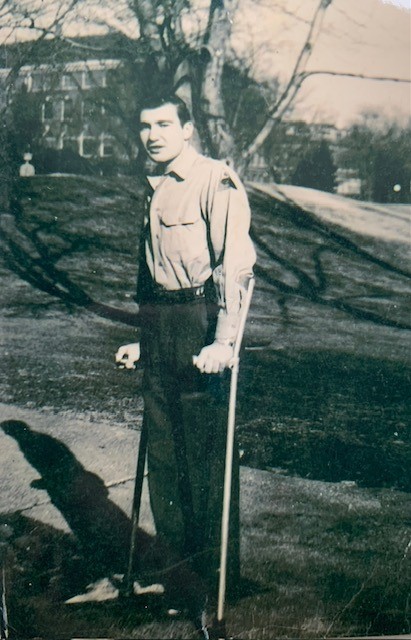 You shall not insult the deaf, or place a stumbling block before the blind… Leviticus 19:14
I grew up with a spare leg in the closet. It belonged to my father, Sidney Novak, who was an amputee army veteran from WWII.
On April 14, 1945, Sidney was leading a squad of soldiers in Germany when he was severely injured by shrapnel from an exploded 88 mm shell. He was 18 years old. Following the injury, he was shuttled to field hospitals until he was stable enough to fly back to the United States. He spent 3 years in the hospital and went through 37 operations to try to graft his leg back together. Sidney finally asked about his prognosis and, after much discussion, decided to have his right leg amputated below the knee. He would have a prosthetic leg made and "get on with his life."
Though my father was technically labeled "90-100% disabled" for government records, he made sure to participate fully in life. He adjusted to his prosthetic, got a job, played softball, tried out for parts in musicals, and met my mother. Growing up with the spare leg in the closet was normal life to me. If something on the prosthetic failed mechanically, or if the fit needed adjusting, at least my father would be able to use the spare.
Living with a prosthetic could be challenging. The mechanics of his leg were very different from what is available today, and at times, the leg broke down physically. During the first few years after his discharge from the hospital, he would have his leg checked in a facility where he had to cross a busy intersection in order to access the building. In the early 1950s, the foot of the artificial leg was held on by a bolt. One time while crossing the street, the bolt in the ankle loosened, and he fell just as a car was passing by. The foot turned around and was backward, and the driver was very upset, thinking she had hit him and broken his ankle. He and a police officer calmed the driver down and asked her to drive him across to the building, where he was able to have the leg repaired.
Dad was luckier than many other-abled individuals. For much of his life, he was able to walk from the other end of the parking lot to a store if the handicapped spot was taken. He could walk up and down stairs if an elevator wasn't available. He loved working at a research laboratory as a purchasing agent and could drive himself to work without issue, though he had to develop a two-legged technic to drive safely. His love of singing remained a constant, and he took a part-time job as a cantorial soloist at Temple Shalom, Newton, MA. where he had to access the bima via stairs.
Dad believed in giving back and volunteered in public schools, at the town senior center, and at the condo complex where he lived the last 30 years of his life. One important volunteer role he took on was to visit people in hospitals following amputations due to accidents or illnesses such as diabetes. After sharing his experience learning to adjust to a prosthetic, he would often demonstrate how to put his leg on and off and how to move about.
When Dad retired, he and my mother continued their volunteer efforts and traveled extensively. He was able to keep up with Elderhostel (now Road Scholar) trip activities to the point that few fellow travelers realized he was an amputee. They took up square dancing and bought the outfits to go with it. He was a constant presence at Memorial Day and Veteran's Day ceremonies, often having to stand for long periods of time or march in formation. He also made sure my mother was able to get to her sisterhood dinners and encouraged her financial support of WRJ.
My dad took up the mantle of financially supporting WRJ following my mother's death. He was proud of my volunteerism, leadership, and activism in WRJ and wanted to support the impact WRJ has. WRJ's long-time support of disability rights and inclusion through resolutions, education, action, and advocacy at the local, district, and North American levels, and our regular participation in the annual Jewish Disability Advocacy Day, makes me proud to be a part of WRJ. This year, I pledged my diamond lifeline in support of the YES Fund to honor his memory.
Dad was able to age in place. He had to slow his pace, and his leg adjustments became more frequent, but he always approached life with a positive outlook. After all, he was given the gift of life, and he chose to live it to the fullest. His glass was always overflowing and he took an interest in every person he interacted with.
Dad's last charitable contribution was after his passing in August of 2022. His prosthetic was donated to an new amputee in the Ukraine, and his spare leg was removed from the closet and donated as a teaching tool to a school training people to make prosthetics. I think he would have been pleased.
To read resolutions WRJ has written about disability rights and inclusion, click here and here.
To read a Blog post about participation at Jewish Disability Advocacy Day, click here.
Related Posts
Image
Women of Reform Judaism (WRJ) has long been at the forefront of promoting social justice, equality, women's rights, and human rights.
Image
Sharsheret, a national non-profit organization, improves the lives of Jewish women and families living with or at increased genetic risk for breast or ovarian cancer through personalized support and saves lives through educational outreach. Read what Melissa K. Rosen, director of training and...
Image
Is your WRJ-affiliated women's group planning an outstanding engagement, social justice, or advocacy project or program that could serve as a model for other women's groups? If so, take note—you may be able to qualify for a microgrant to help you defray the cost of that project or program.