Image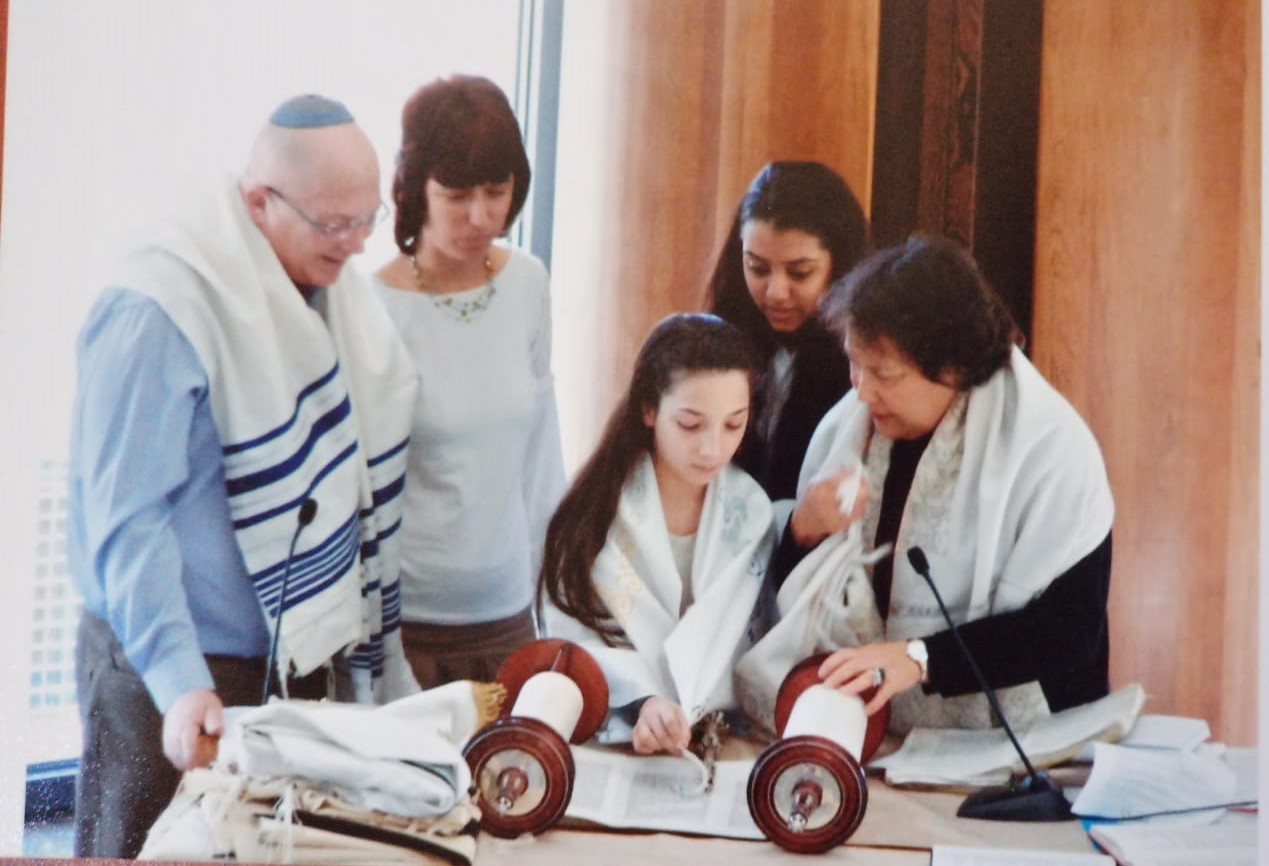 "It's crazy to think that the seemingly small decision of an 11-year-old girl can change her whole lifetime. Today, I look back and ask: where did that decision come from?" This is the first thing Noga Pnina recalls about her Bat Mitzvah experience, an occasion that spiraled a course of events not only for herself but for her mother, siblings, and even her extended family.
The Israel Movement for Reform and Progressive Judaism's (IMPJ) "Bat Mitzvah Revolution" program, supported generously by Women of Reform Judaism (WRJ), facilitates egalitarian Bat Mitzvahs for young girls in 52 congregations throughout Israel. Noga Pnina was one of those girls. A major part of Reform Judaism is our belief that women, who choose to, should have the right to benefit from the same inspiring, uplifting, empowering Jewish experience as their male counterparts. The "Bat Mitzvah Revolution" brings an egalitarian option of an Aliyah l'Torah (call to Torah) ceremony to girls who are looking for a liberal, spiritual way to celebrate this special milestone.
Noga Pnina shared that she grew up in a traditional, non-religious family. She kept kosher at home, celebrated Pesach, Yom Kippur, and other Jewish holidays, but that was about it. She had no idea what Reform Judaism was, nor was she aware that a Reform congregation existed near her home.
Around the time of her bat mitzvah, she started searching for something meaningful to commemorate that special time in her life. She wondered: "Why should the boys get to do all the fun stuff?! I want to have an Aliyah l'Torah too."
Michal, Noga Pnina's mother, agreed and decided to help her search, finding the local Reform congregation, Kehillat Kamatz. Rabbi Maya Leibowitz, founder and leader of the congregation, was running a course as part of the Bat Mitzvah program, and Noga Pnina joined. This was the first step.
As the weeks went by, Michal and Noga Pnina became more and more involved in the congregation's activities. After completing her Bat Mitzvah course with Rabbi Maya, which prepared Noga Pnina for the significance of "coming of age" in Jewish tradition and the ceremonial reading, the day of her Bat Mitzvah finally came. Noga Pnina's immediate and extended family shared the day with her, joining together at Kehillat Kamatz.
Rabbi Maya passed the Torah scroll to each family member, grandparents and grandchildren included, until it finally reached Noga Pnina. Rabbi Maya shared that just as Moses passed the Torah down to the Jewish people, we pass the Torah to Noga Pnina. "The Torah and its mitzvot are now in your hands." Noga Pnina described this as a very moving moment, occurring just before she read her portion - with great success.
Rabbi Maya was an inspiration to Noga Pnina and many other young people, believing that the future of Judaism is in their hands. Noga Pnina shared: "[Rabbi Maya] had a vision that young people should be the ones who lead the youth that come after them while passing on traditions and Jewish heritage and becoming their role models and mentors."
Noga Pnina's extended family was also positively impacted by her decision to have a Reform-spirited, egalitarian Bat Mitzvah ceremony. "Before my Aliyah l'Torah, the children in my family did not necessarily commemorate their Bar or Bat Mitzvah. But since my Aliyah l'Torah, many of my cousins have had a ceremony, and each one of them chose to do so through the Reform Movement!"
The ripple effect of Noga Pnina's decision as an 11-year-old girl reached beyond her and strengthened her entire family's participation in the Reform movement. Michal became an active lay leader and board member of Kehillat Kamatz. She then became the director of IMPJ's preschool network in Mevasseret, and after seeing the work of female rabbis in the movement, wrote her MA thesis on the subject.
Noga Pnina's older brother, Guy, was also positively impacted. Following Noga Pnina's Bat Mitzvah, he began attending Tlamim activities - IMPJ's community activities geared towards young adults. Several years later, at this past year's annual Yom Kippur retreat for young adults, Guy met Julia, a student-rabbi from North America studying for a year at Hebrew Union College – Jerusalem: A match made in Reform heaven!
Noga Pnina went on to become a youth counselor and coordinator at Noar Telem, the local branch of IMPJ's youth movement, where she gets to work with and influence young children through fun Reform activities.
"One of the young girls recently said to me, 'When I grow up, I want to be just like MK Rabbi Gilad Kariv. First, I'll be a counselor at Noar Telem, then a coordinator, then I'll work at the Reform Movement headquarters, and after that, I'll become a member of Knesset!'" Noga Pnina recounted excitedly. "I think this really proves how in the Reform Movement, aspirations aren't gender-segregated. Girls and women are taught and shown first-hand that there is nothing that men can do that women cannot do."
Two years ago, Noga Pnina married her husband Daniel at the same synagogue where she first read from the Torah more than a decade ago. The couple was married by Rabbi Alona Nir-Keren, the present-day rabbi of Kehillat Kamatz, who Noga Pnina depicts as the rabbi central to her life today.
It should come as no surprise then that Noga Pnina aspires to become a Reform rabbi herself. "As a rabbi, I see myself as being a leader in the field of education and in the community. My vision is to be a rabbi who strives towards a clear goal: everyone is welcome, everyone has a place. I will strive to lead a congregation where people feel comfortable exploring their faith, unafraid to question, challenge, or contemplate Judaism."
When asked what message she would write to young girls reading this piece, Noga Pnina answered: "As a young girl, I was laughed at because I was Reform. People are not willing to open up to things they do not understand. My advice is to keep doing what makes you feel good. What would have happened if I had left the Reform Movement just because of the opinions of others? I cannot even imagine it. Know that we always have the support of other Reform women behind us and always will."
None of this would have been possible without the generous support and backing of WRJ, whose commitment to IMPJ's "Bat Mitzvah Revolution" program has enabled hundreds of young girls to find their path to egalitarian Judaism. We deeply thank you for your support and look forward to your next visit to Israel!
Tamar Roig, originally from an Orthodox home, is Director of Partnership Development at the IMPJ, where she learns new things about Reform Judaism every day. Tamar, a mother of three, is also a doula who supports mothers before, during, and after birth, which she describes as the most spiritual and sacred experience in life.
Related Posts
Image
I became a YES Fund scholarship recipient during my studies at Leo Baeck College (LBC) in London from 2014 to 2019. I am deeply appreciative and endlessly grateful for your ongoing support of young rabbis like me. Your partnership goes far beyond providing financial help – your sacred work puts fundamental Jewish principles into action – the principles of community, learning, and mutual responsibility.
Image
Five years ago, Moving Traditions and the Union for Reform Judaism (URJ) partnered to create Kol Koleinu – A Teen Feminist Fellowship.
Image
With the generous support of Women of Reform Judaism (WRJ), the Avodah Jewish Service Corps. launched its first Jews of Color (JOC) Bayit in August for the 2021-2022 service year. The JOC Bayit is a ground-breaking new experience designed, built, and run by Jews of Color for Jews of Color.