Image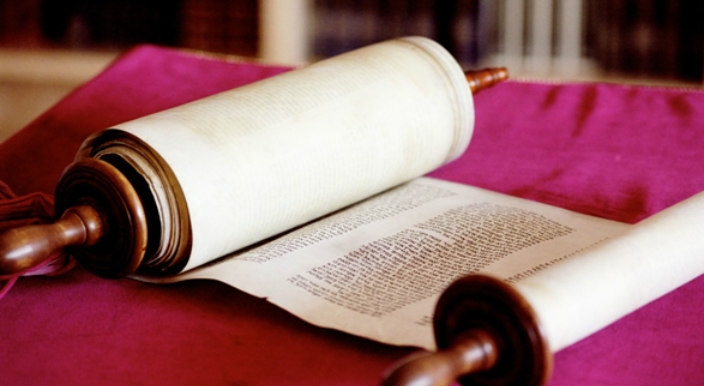 In Parashah Chukat, "God said to Moses and Aaron, 'Speak to the sons of Israel and find a completely red cow on which there is no blemish and no yoke has ever come. You shall give it to Eleazar, the priest, and he shall take it outside the camp and slaughter it. This cow shall then be made into an offering and those that participate in the sacrifice shall be unclean until the evening. 'Remember this everlasting statute,' God continues. 'One who touches the corpse of any human soul becomes unclean for seven days. If the corpse is in a tent, all that is within the tent is also unclean. There is a purification process involving water for people and their possessions. If one does not purify oneself after a state of uncleanliness, that soul shall be uprooted from Israel. Anything unclean must be made clean and pure before coming in contact with the holy Sanctuary.'"
When I was a child, my grandmother openly talked about her death. It was a daily topic when we were together. She had been battling cancer for over a decade. There would be times (months, years) when she was healthy and in remission and then times when she was sick from chemo and wore wigs. Visiting her was always special. She always made me feel like I mattered and genuinely appeared to enjoy my company. She lived in New Milford, NJ in a small house without air conditioning. It was always ridiculously hot there (until my parents bought them a wall unit a/c). But being in the house was magical to me. She always made sure it was stocked with the major necessities: Yoo-hoo chocolate drink (not actual milk), jelly donuts, cold cuts, Nilla Wafers, rye bread, and a candy bowl of M&Ms. We would blow bubbles and catch lightning bugs and visit with the neighbors' kids, who raised service dogs. We watched tv on her covered couches, where she would make sure I sat right next to her and she'd inform me that The Peanuts was the only good cartoon. And we would watch my grandfather sleep and say he was "just resting his eyes." I'm pretty sure he was actually sleeping...
On one of our visits, she wanted to share something with me - I was about 11 or 12 years old. She showed me a special bra she wore. It was a padded bra she got after having a mastectomy that gave the illusion that she still had breasts. Up until that point, I didn't fully grasp what she was going through, just how sick the cancer had made her. Unique to my family, my grandmother had no trouble talking about her mortality. She told me over and over that she wanted me to be at her funeral. And when she got sick the last time, I was terrified when I saw her. She was so very sick.
I had grown up Lutheran - I converted to Judaism in 2009 - but back when I was a young girl my experience with death and dying was limited. It just wasn't talked about - not at our church and not at home. I hadn't been to (or remembered being to) a funeral, and I had never seen anyone near death before my grandmother was in the hospital. Even when she was at home all those times recovering from chemo, she was still vibrant and had stocked her fridge with donuts and potato salad. But seeing her so sick in the hospital was really scary. I didn't know what to do.  
Now being Jewish, I have these remarkable tools to help me with the hardest part of life: losing a loved one. I wish that 12-year-old Julia had known of the rituals for death as described in Parashah Chukat (maybe not the slaughtering of a cow), to sit shiva, to grieve with a community, to feel the embrace of friends and family during that grief. I do not welcome the day that I lose those I hold dear, but Judaism has fortified my capacity and resilience to respond with love, patience, kindness, and self-compassion - and to make sure there's always a spread of donuts, coldcuts, and potato salad.
Julia is the co-founder of CAG: FBLA (Caring Across Generations: Faith Based Los Angeles Alliance). Through CAG: FBLA, Julia helps organize workshops, raise awareness on domestic workers' rights, and networks with other organizations to help problem-solve our aging crisis and spread the word about caregiving. Julia co-chaired WRJ's 2021 Fried Women's Conference (FWC), is an active member of Bend the Arc, and is the Social Action Chair for the Women of Temple Beth Hillel in Valley Village, California.
Julia currently resides in Studio City, California with her husband, son, three dogs, and cat.
Related Posts
Image
I suspect that everyone has gone through an experience in which you felt resentful, angry or depressed about a past encounter with someone and found it hard to get past it. Someone close to you may have said, "Get over it!
Image
Parashah R'eih (Deuteronomy 11:26-16:17) opens with the verse "See, this day I set before you blessing and curse (Deut 11:26-28)." Many instructions of daily living are included in the text.
Image
Parashah Eikev, while it may be one of the parashyot in Deuteronomy that we gloss over on our way to Simchat Torah, actually raises several challenging questions and can teach us meaningful lessons.