Image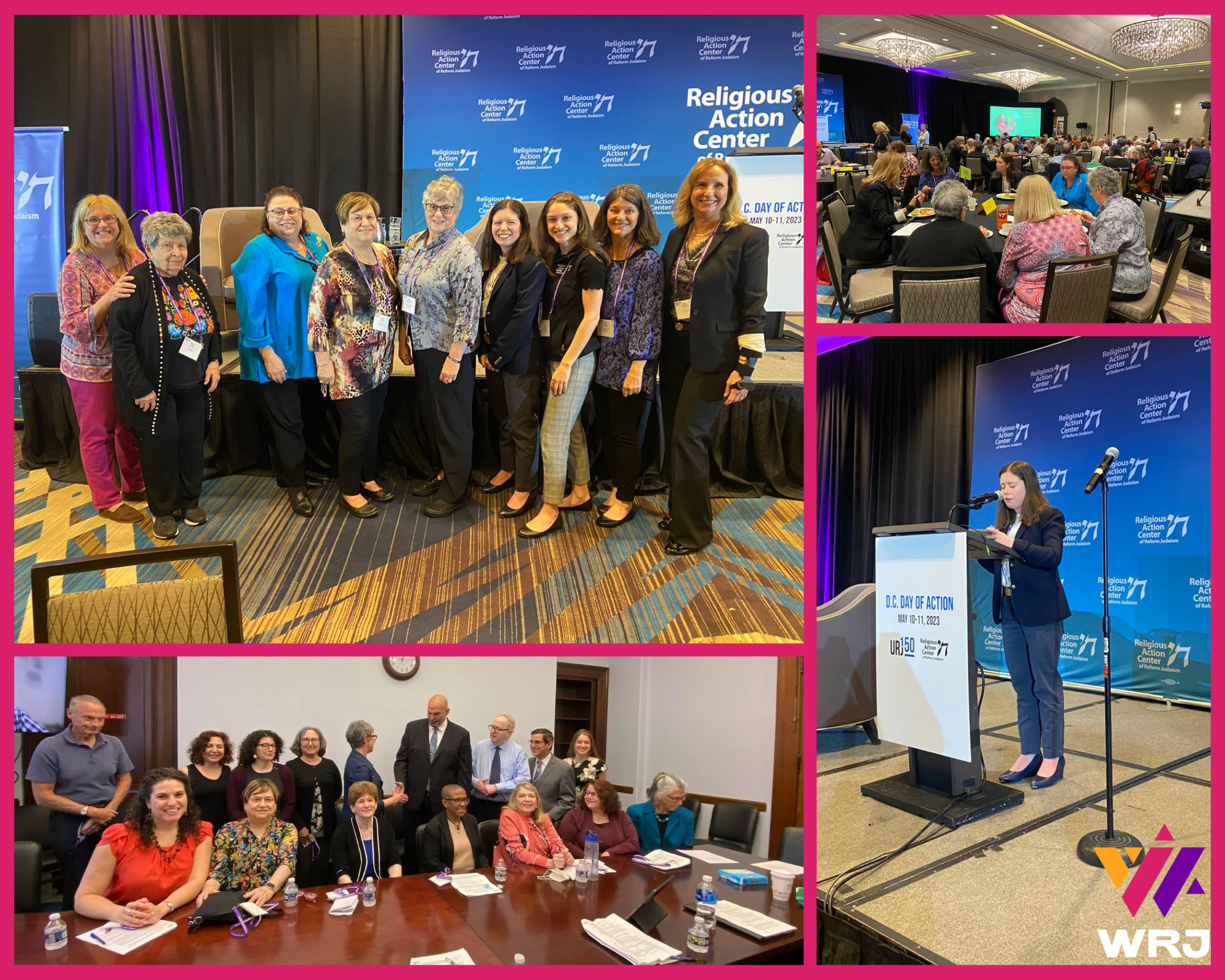 Earlier this month, Women of Reform Judaism attended the Religious Action Center's Day of Action as part of the Power for Purpose: The Reform Movement's Campaign for Climate Justice. The event began with words of inspiration from Rabbi Jonah Pesner, LaTosha Brown of Black Voters Matter, Ben Jealous of the Sierra Club, Carolina Pena-Alarcon of EcoMadres, and other Reform Movement leaders. We strategized about how to engage our communities in climate action and prepared for meetings with our members of Congress. The next day, before urging our members of Congress to take strong actions to protect the climate and advance environmental justice, we joined on Capitol Hill to hear from Representatives Landsman, Goldman, Jayapal, and Khanna and enjoyed a keynote speech from Reverend Senator Raphael Warnock. We even spoke with a member of the Administration at the EPA, urging them to commit to environmental justice and implement strong regulations on air pollutants. It was a powerful event full of community, education, and advocacy!
Rabbi Liz P.G. Hirsch, WRJ's incoming executive director, attended the RAC's Day of Action and led Birkat Hamazon after dinner at the event. She was excited to meet several WRJ leaders and dream about how to put this campaign into action throughout WRJ next year.
(To learn more about Rabbi Hirsch, check out this recent interview she gave to the Jewish Federation of the Berkshires)
A RAC Day of Action Experience (submitted by Kareen Hartwig)
As a member of the Pennsylvania delegation to the RAC Day of Action, I had the pleasure to visit and lobby Senator John Fetterman.  While not scheduled to meet personally with Senator Fetterman, we met with Anna Keilly and Sam Thomas, two Camp Harlam and NFTY Alums. Seeing Anna in person and Sam on the big screen, made my WRJ heart very happy. Watching these wonderful young people working to make our world a better place is just another indication that our WRJ funds for youth activities are well spent! Anna was actually NFTY PAR Social Action Vice President and Sam was one of my youth group kids when I was youth group advisor at Beth David Reform Congregation in Gladwyne, PA. Anna and Sam assured us that Senator Fetterman was in tune with Climate Justice, and it has always been a great part of his agenda. Suddenly, as we were wrapping up the delegation's lobbying session, the door opens and this very tall well-dressed man enters the room. Senator Fetterman was there to spend a few moments with us and briefly talked about not only Climate Justice, but his desire to visit Israel and to eradicate antisemitism. This was an exciting few minutes, and I have the picture to prove it happened! 
Related Posts
Image
WOW! I have just attended my first in-person Commission on Social Action (CSA) meeting. I have attended several meetings on Zoom, but it is different in person. There were many expert speakers who came in to talk with the group. The topics were serious but enlightening.
Image
As we read this week's Torah portion, Parashat Pinchas, we are reminded that women have always needed to assert themselves to be treated equally. The five daughters in this parashah decided to stand up for their beliefs, challenge tradition, and suggest the creation of a more impartial law. It is extremely important to note that only a few women are named in the Torah, and each of these five sisters had a name. They are Mahlah, Noah, Hoglah, Milcah, and Tirzah. We should also mention that in the Bible, these five daughters appear on three different occasions (Numbers 27 and 36 and Joshua 17). Each time they are together, it denotes not only their importance but likewise the importance of 'sisterhood.'
Image
The fight for freedom of expression in all its forms is not easily attainable, but one we know is crucial to the progress of the State of Israel.