Arkansas, Colorado, Kansas, Louisiana, Mississippi, Missouri, Oklahoma, Texas and Western Tennessee
Welcome to WRJ Southwest District!
Message from Southwest District President, Cheryl Barenberg
Welcome to WRJ Southwest District! Whether you are a member of Women of Reform Judaism (WRJ), leader of a WRJ affiliated women's group/sisterhood, WRJ leader, or someone who just shares our common goal of ensuring a vibrant future for Reform Jewish Women, we hope you will find the information and resources available on this site helpful.
As you explore the site, you will find:
Information on the many programs and events held within our district that provide opportunities to connect with each other through praying, learning, and engaging with one another at regional conferences and local gatherings. 
Due to the current constraints on in-person events because of the COVID-19 pandemic, we have moved all events and programs to the Zoom online platform for the foreseeable future. We even recently held a very successful Virtual Convention in November, 2020.
Leadership and personal development through participation in educational programs.
Tools and resources to help you in your leadership role. 
Access to district leaders who are available to support you as advisors, consultants, teachers and program speakers. Our Executive Committee members and Committee Chairs, as well as the staff at the WRJ office, are available to assist you as needed.
Opportunities to share and network with other WRJ members and leaders throughout the Southwest. 
Our goal is to make meaningful connections by building and fostering our WRJ-wide family where every member has an opportunity to learn, grow and feel part of a nurturing community of Reform Jewish women. This website is part of making that happen. We invite your ideas and suggestions on how we can make this website, even more, user-friendly.
I am looking forward to hearing from you and learning about your passion for WRJ and discovering what brings you to the WRJ table.  I am sure it will be a time for us to gain knowledge from each other and share in our success as women's groups, as leaders, and as individuals. 
Welcome to WRJ Southwest District! 
Cheryl Barenberg
Questions? We've got the answers on our FAQ page or feel free to Contact Us!
Support Southwest District and our philanthropic efforts
Southwest District strives to further the mission of Women of Reform Judaism: WRJ strengthens the voice of women worldwide and empowers them to create caring communities, nurture congregations, cultivate personal and spiritual growth, and advocate for and promote progressive Jewish values.
Image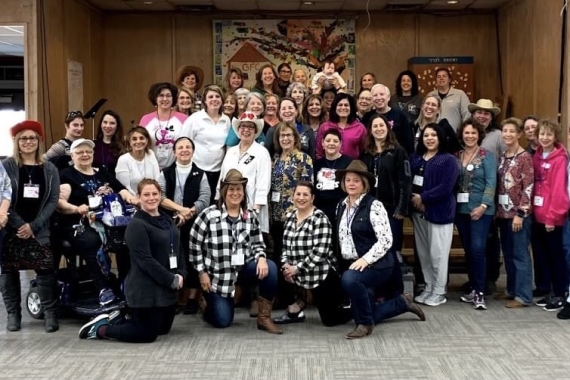 Attention Sisterhood/Women's Group Presidents
Upcoming Change in Leadership?
Don't forget to fill out WRJ's Sisterhood Leadership Change form if you have new 2020-2021 leadership at your Sisterhood/Women's Group. This way your new leadership can also receive WRJ news, events, tools, and more!
Planning a YES Fund event?
We want to showcase your sisterhood!
The Southwest District would love to showcase past and/or future programs presented or sponsored by your sisterhood. Please send a short summary with a photo or two to my email below.  Please consider adding me to your sisterhood or Temple email list and/or share with me your Facebook page so that I can look for interesting things to post each month. 
Ann Weintraub
Vice President of Marketing and Communications
ann@amjdesignonline.com
Our monthly newsletter, The Southwest Schmooze, highlights important dates, upcoming events and news around the Southwest District!
Searching for a new, innovative program to support the YES Fund? Are you looking for examples of alternative leadership structures for your sisterhood? Do you have an ingenious new matzah ball recipe that you are dying to share? You can ask these questions, find solutions, and share your own insights through WRJ's networking platform: Yammer.
Yammer is a Microsoft-based social platform that allows members to post and share ideas and files with each other, creating connections and collaborations with our women around the world. WRJ women are in rich conversation on this platform every day. Getting involved can give you and your sisterhood fresh ideas and answers from others who share your challenges. It also provides an exciting way to celebrate your successes.
To build on this resource, click here for are some advanced-level tips to use our platform in the best way to benefit you
If you aren't already on Yammer, email leadership@wrj.org to request that you and your sisters be invited to the WRJ Yammer network (including our Southwest District group). Be sure to include your name, sisterhood, and position (if any).
Image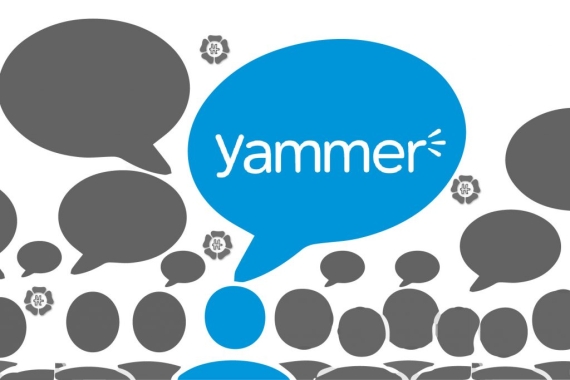 Blog Posts
Image
Here are some resources and actions to protect and advance abortion access.
Image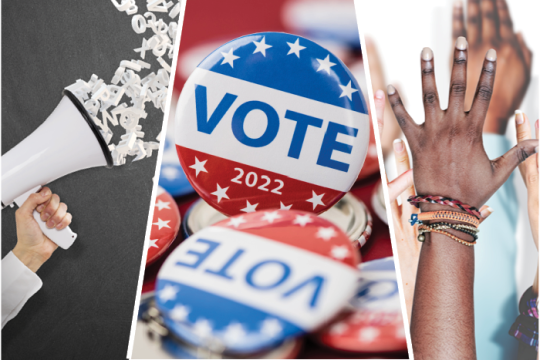 Over the past several years, it seems that so many of the things about which we, as Reform Jews, care have been under attack. Gun violence is still the norm; Roe v. Wade has been overturned; and People of Color and immigrants are still under attack. All that is not to mention the attacks on the very fabric of our democracy. What do all these things have in common? The best way to "fix" them; to move forward toward the sort of world we might actually like to have, is to vote.
Image
While the rainbow is a sign from the Eternal as to the covenant not to flood the Earth, we can also take it as a beautiful reminder that we are to act on our values. In whatever way we can, we can act against corruption and for justice. Tzedek, tzedek tirdof, justice, justice you shall pursue (Deuteronomy 16:18.) For me, the social justice work of Women of Reform Judaism is a way to bring this concept into my own life, working on issues from racial justice to reproductive health and so many others.
Events
Image
WRJ is honored to be joined by two dynamic speakers: author and activist Dr. Tarece Johnson, Ed.D., and Deputy Director of ADL Connecticut Marji Lipshez-Shapiro. Together, they will share their experiences and show how collaboration is used as a social justice tool.
As North American Jewish women, we have watched as Israelis went to the polls for the fifth time in four years.
Image
Women of Reform Judaism and Women's League for Conservative Judaism are excited for Women of the Wall (WOW) to share their new curriculum, "Sacred Feminism," which was made possible by a WRJ YES Fund grant.
Sisterhoods are dedicated to a wide variety of religious, educational, social, philanthropic, and advocacy efforts. They are also an outlet for Reform Jewish women and an integral part of any congregation. Find a sisterhood in your area today!
WRJ Updates
Image
In the US, slavery and segregation meant that Blacks and whites lived as '2 peoples' where whites prevailed over Blacks. While laws have been passed to remove barriers to equal justice, centuries of racial subordination and discrimination do not end just because laws are passed to prohibit them. There is still much work to be done to ensure that all persons have their civil rights and that, unlike the blessing Isaac conferred on Esau, they can live freely wherever they wish to reside. We can help affect change through participation in any number of social action and social justice initiatives.
Image
On the recent WRJ Civil Rights Journey (CRJ), the theme of legacy was repeated over and over. As our tour guide, Billy Planer wrapped up our powerful five-day experience, he asked this poignant legacy question, 'How will you live your life so that when you die, you have a legacy of justice for the next generation to remember you by?'
Image
Supporting our local congregations and communities is what makes Sisterhood membership so rewarding. WRJ expands on this by connecting us to other sisterhoods and communities in this amazing network. Our impact in the world is magnified by our involvement in the organization.